100's of home remedies for common health problems
Herbal Encyclopedia
Every Green Herb is an online encyclopedia of healing knowledge gathered from experienced elders, the internet, local libraries, and experts complied by by me (Janice Boling) over the past 30 years.
How can home remedies and alternative medicines be used to treat common health problems?
It is easy to get started. Read all you can, watch some videos, and try various medicinal herbs on a daily basis or as often as possible. Soon you will be reaping the benefits.
Learning something new everyday
You will find at helpful videos throughout this website so you don't have to sift through boring slide shows and talking heads. The videos that you will find on Every Green Herb are hand-picked. are entertaining, and they contain solid advice. Many thanks to the herbalists that share their experiences with us via YouTube.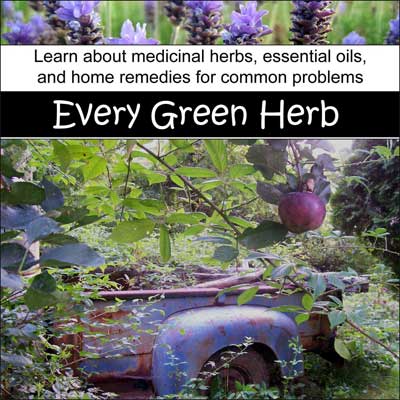 An apple a day -- photo by Janice Boling
We hunt and harvest wild-grown herbs for personal use and to sell in our online store.
Yellowroot, mullein, heirloom seeds, gifts, and other farm products are available with free shipping on all orders. Visit our herbal store to buy quality herbs and unusual, hand-made items.
For beginning herbalists
Remember that reading about herbal medicine and watching informative videos are great ways to learn but nothing beats hands-on experience. Find a container, get some potting soil, and plant a few basil seeds. Visit a health food store and purchase some quality medicinal tea and tincture to help your specific problem. Continue your research while trying different remedies. Soon you will be confident enough to start making infused oils, ointments, and other herbal products for yourself and your family.
Every Green Herb & Payne Mountain Farms
Here on Payne Mountain Farms, we use herbal medicine, along with prayer, healthy diets, and exercise, to protect and heal our bodies, minds, and spirits. Please join us on our journey as we discover new uses for every green herb and the rest of God's bounty.
How to easily treat common health problems with home remedies
A Note About Cannabis
As laws and attitudes change, cannabis is quickly becoming an herbal remedy for everything from pain management to digestive problems. Cannabis is still illegal in many parts of the United States so check local laws before purchasing or growing the herb. For more information, visit Cannabis in herbal medicine.
For more information about Every Green Herb, visit our Policies and Disclaimer page.


"The best way to really learn about herbal medicine is to smell different herbs, taste them, use them daily, and grow them if at all possible. Herbal medicine is a way of life. It is not a quick fix so give your herbs time to work." Janice Boling -- herbalist, web designer, artist, and writer
"Ointment and perfume rejoice the heart: so doth the sweetness of a man's friend by hearty counsel." Proverbs 27:9
I love to hear from my readers and my customers. The best way to reach me is by email at hometown30512@yahoo.com -- I answer emails several times daily.

* Note - the information on this website has not been evaluated by the Food and Drug Administration.
** Most of the articles in this online herbal encyclopedia were first published by the North Georgia News in a weekly column titled Every Green Herb (by Janice Boling).
© 2005-2021 website design and content by Janiceboling