100's of tips for using medicinal herbs, essential oils, and home remedies
Every Green Herb is a place to learn about using medicinal herbs and essential oils to treat common health problems and chronic conditions. Look for home remedies, recipes, and tips about using herbal medicine in everyday life.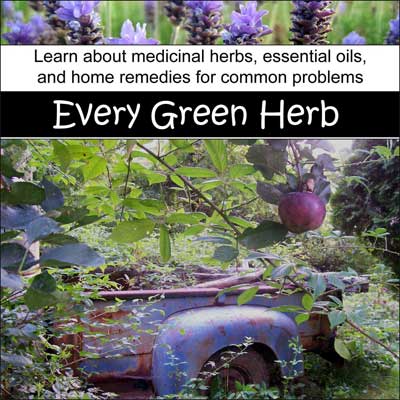 © Janice Boling - Old International and apple tree at Payne Mountain Farms
Diet and herbal medicine go hand-in-hand. These tart, juicy apples are full of delicious fresh enzymes that heal the body.
100's of tips for using herbs and essential oils to heal and protect the body, mind, and spirit.

Get tips for everyday problems such as bug bites and sore muscles plus tips for serious conditions like weak immunity, depression, and diabetes. Various herbal remedies and lifestyle recommendations are also provided for each medical condition. Common health problems

From aloe to yellowroot, medicinal herbs can help keep the body healthy. If an accident or sickness strikes then herbs can heal and protect. Individual herbs are the basis of herbal medicine and are a great place to learn about natural healing. Medicinal herbs A-Z

Find information on the most useful and widely available essential oils including my favorite, lavender essential oil. Essential oils form the basis of aromatherapy and are are often used in herbal medicine. Essential oils can be used in the treatment of everything from headache to skin problems. Essential oils

Using medicinal herbs, essential oils, and other natural treatments can be effective, inexpensive, and fun. Find simple herbal recipes for lotions, potions, tinctures, and teas. Learn about making herbal medicines, natural beauty products, and the importance of diet. Ideas and tips for natural healing
Every Green Herb
"And God said, To every beast of the earth and to every fowl of the air and to every thing that creepeth upon the earth wherein there is life, I have given EVERY GREEN HERB for meat: and it was so. And God saw everything that he had made, and, behold it was very good and the evening and the morning were the sixth day." Genesis 1:29-31
A Note About Cannabis
As laws and attitudes change, cannabis is quickly becoming an herbal remedy for everything from pain management to digestive problems. Cannabis is still illegal in many parts of the United States so check local laws before purchasing or growing the herb. For more information, visit Cannabis in herbal medicine.



"The only way to really learn about herbal medicine is to touch and smell herbs, taste them, use them daily, and grow them if possible. Herbal medicine is a way of life. It is not a quick fix." ... Janice Boling, herbalist, web designer, writer, photographer
"Ointment and Perfume Rejoice the Heart." Proverbs 27:9
* Note - the information on this website has not been evaluated by the Food and Drug Administration.
© 2005-2018 website and all content by Janiceboling