Tips for using cinnamon essential oil in herbal medicine, home remedies, and aromatherapy
Cinnamon essential oil is distilled from the bark of the cinnamon tree. It has a soft and sweet aroma. Rich, spicy cinnamon essential oil provides an effective remedy for the flu, nausea, fatigue, and depression. It makes a warming ointment for achy joints and arthritis pain. Cinnamon oil is antiseptic and astringent. It is used to help digestion and respiratory problems.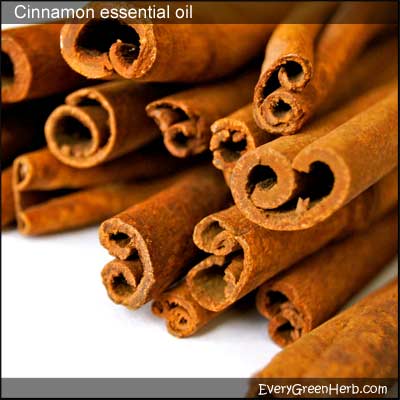 Cinnamon sticks -- photo courtesy of Pexels.com
Cinnamon essential oil is made from the bark of the cinnamon tree.
Cinnamon essential oil has many uses in herbal medicine.
Cinnamon essential oil is used to help treat muscle spasms, vomiting, diarrhea, the common cold, loss of appetite, and erectile dysfunction. Cinnamon essential oil is also used in perfumes, soaps, cosmetics, toothpaste, after shave lotions, skin tonics, and many other herbal products.
Powdered cinnamon is also useful as a herbal remedy.
Small amounts -- half a teaspoon or less -- of powdered cinnamon can help improve blood circulation and digestion. It helps fight bacterial and fungal infections. Cinnamon improves glucose levels in patients with type 2 diabetes and reduces triglyceride levels, LDL cholesterol levels, and total cholesterol levels in some people. Studies show that cinnamon may also help prevent or delay the onset of Alzheimer's disease. Cinnamon can be used to stop diarrhea and stomach gas.
Cinnamon in the kitchen
Powdered cinnamon can be added to tea, apple cider, or hot milk for a delicious beverage. Of course, it is also good on toast and other sweets.
Cinnamon has a long history.
Usually purchased in powdered form for culinary uses, cinnamon has been used since ancient times -- the Bible tells that the Queen of Sheba gave it to King Solomon as a gift. In medieval times doctors used cinnamon to treat conditions such as coughing, arthritis and sore throats.
* Do not take essential oils internally without consulting a professional aromatherapist. Cinnamon essential oil should not be used during pregnancy. Cinnamon contains coumarin, which has been linked to liver damage so do not use it if you have liver problems. Always consult with a healthcare professional before using any herbal remedy especially if pregnant, nursing, or taking other medicines.



"The only way to really learn about herbal medicine is to touch and smell herbs, taste them, use them daily, and grow them if possible. Herbal medicine is a way of life. It is not a quick fix." ... Janice Boling, herbalist, web designer, writer, photographer
"Ointment and Perfume Rejoice the Heart." Proverbs 27:9
* Note - the information on this website has not been evaluated by the Food and Drug Administration.
© 2005-2018 website and all content by Janiceboling