Tips for treating the flu with medicinal herbs, diet, aromatherapy, and home remedies
The best thing for the flu is prevention! Ways to build immunity include eating a good diet with live enzymes, drinking plenty of fresh water, breathing clean air, getting a good night's sleep, and living in as pure environment as possible away from toxic chemicals and poisons like pesticides, herbicides, cigarette smoke, engine fumes, radon, household chemicals, and air pollution.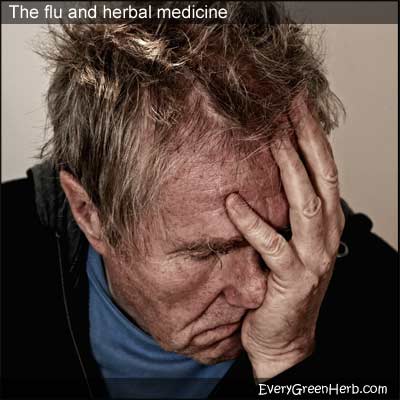 Picture of man with the flu -- courtesy of Pexels.com
This man suffers with flu symptoms including headache, fever, and congestion.
Build immunity with herbs so your body can fight the flu virus.
The best way to fight the flu is to start building immunity in spring and summer! Don't wait until coughing, sneezing, and body aches get you down.
Start building immunity by taking herbs before sickness strikes.
Another way to build immunity in preparation for the "flu season" is to get on a schedule of taking herbal supplements. Yellowroot, ginseng, Echinacea, rosemary, licorice, astragalus, burdock, milk thistle seed, white willow, elderflowers, catnip, yarrow, boneset, hawthorn, garlic, dandelion, and mushrooms are good herbs to build immunity.
One method is to start in May taking astragalus everyday for two weeks. Then switch to either yellowroot or ginseng everyday for two weeks. Then skip a week or try a new herb for a day or two. Then start over with the two weeks of astragalus. Do this on a regular basis all year long although astragalus should never be taken during a feverish condition! If sickness takes hold, start treating the symptoms so patient can rest comfortably.
Treat symptoms with herbs.
Complaints of the flu range from sore throat and earache to fatigue and nausea. Full blown cases of the flu require a visit to your healthcare professional. For less severe bouts of illness, there are lots of home remedies to treat allergy, cold, and flu symptoms. White willow bark tea helps fight feverish conditions. Ginger can help with nausea. Eucalyptus essential oil steam baths help relieve sore throat, runny nose, chest congestion, and cough. Hyssop can sooth the lungs. Mullein oil helps sooth ear ache and mullein tea helps with respiratory problems.
Using essential oils to treat flu symptoms
Use essential oils to open the bronchial and nasal passageways. Eucalyptus and tea tree can work wonders. Try lavender essential oil for headaches. Try a soothing bath with a few drops of frankincense essential oil for body aches. Refreshing peppermint can help bring down fevers. The list goes on and on.
Herbalists should listen to their bodies and ask lots of questions when treating others.
The body will develop a taste for the herbs that it prefers and needs. Your body has lots to tell you if you will just listen. If something stinks or makes you gag, do not take it. If you crave something, then by all means, take a little extra. It is hard to overdose on herbs in their original state. Do not take extra essential oils, tinctures, processed herbal "capsules", over the counter products, or prescription medications!
Eat local honey to build immunity to allergens.
Allergies, colds and flu can be a nightmare. Get relief from runny nose, congestion, and pollen by eating local honey. A spoonful a day can help build immunity to allergens that cause runny nose and watering eyes. Make sure to purchase local honey as it is made from local flora. There are several honey farms in the North Georgia area and many sell their wares at the Union County Farmers Market, local festivals, and area stores.
* Always consult with a healthcare professional before using any herbal remedy especially if pregnant, nursing, or taking other medications.
For more information, see colds.



"The only way to really learn about herbal medicine is to touch and smell herbs, taste them, use them daily, and grow them if possible. Herbal medicine is a way of life. It is not a quick fix." ... Janice Boling, herbalist, web designer, writer, photographer
"Ointment and Perfume Rejoice the Heart." Proverbs 27:9
* Note - the information on this website has not been evaluated by the Food and Drug Administration.
© 2005-2018 website and all content by Janiceboling