Tips for treating high blood pressure with medicinal herbs, essential oils, and home remedies
High blood pressure may be caused by stress, smoking, clogged arteries, calcium deficiency, fiber deficiency, a high fat diet, insulin resistance, poor sugar metabolism, thyroid imbalance, obesity, lack of exercise, too much salt and red meat in the diet (causing raised copper levels), excess alcohol consumption, kidney malfunction, and constipation. If you suspect that your blood pressure is high, seek medical attention as soon as possible.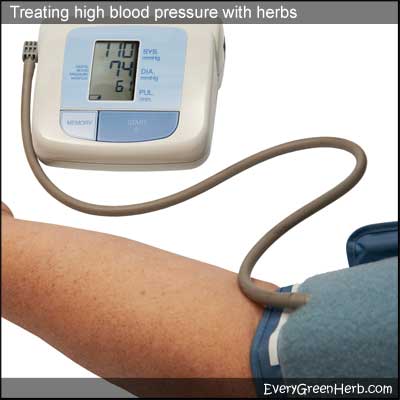 © Igor Terekhov | Dreamstime Stock Photos
Most drug stores offer free blood pressure checks. A blood pressure reading of 110/74 is normal for this thirty-five year old man.
Get your blood pressure checked regularly.
High Blood Pressure (hypertension) is related to heart disorders and liver problems. At first, a person with high blood pressure will not experience any noticeable symptoms. Symptoms appear later and can include headaches, eye problems, dizziness, fainting spells, nosebleeds, irritability, ringing in the ears, flushed complexion, red streaks in the eyes, fatigue, depression, and chronic respiratory problems. Since there are often no symptoms, high blood pressure is sometimes called the silent disease. People should have their blood pressure checked regularly. Blood pressure tests are quick and painless. Most drug stores now have free machines that check blood pressure. Visit the Mayo Clinic website to see a chart with normal ranges of blood pressure.
Eat oatmeal, flax seed, and wheat germ to lower blood pressure naturally.
High blood pressure can benefit from a good diet and exercise. Add lots of fiber to the diet and reduce fat intake. Avoid artificial sweeteners and antihistamines. Lots of citrus and other fruits are a must. Wheat germ, oatmeal, flax seed oil, buckwheat, strawberries, and green drinks should be consumed regularly. Eat smaller meals and reduce calories for best results. A small glass of wine every evening can also help.
Try medicinal herbs to lower blood pressure.
Chamomile or lemon balm tea at bedtime can lower blood pressure and give restful sleep. Other herbs that help lower blood pressure include heartsease, yarrow, hawthorn, dandelion, linden, and guelder rose. Yarrow and linden are considered heart tonics because they relax the blood vessels and improve blood flow. Hawthorn strengthens the heart muscle and relaxes the blood vessels. Linden relaxes and heals blood vessels especially when combined with hawthorn or ginkgo biloba. Guelder rose can be combined with hawthorn and valerian to relax the whole vascular system.
Try garlic, onion, and cayenne to increase circulation.
Many herbs are good for the circulation. Garlic, onion, cayenne, ginger, and bilberry are the most well known. Aromatherapy can also improve circulation. Use a blend of lavender, marjoram, and ylang-ylang essential oils. Avoid rosemary essential oil because it can raise blood pressure.
Rid the body of excess fluid with uva ursi, corn silk, and dandelion.
Diuretic herbs are sometimes used in the treatment of high blood pressure. Uva Ursi, corn silks, and dandelion are will known for helping rid the system of excess fluid. When taking any diuretic, extra vitamin C should be added to the diet. Potassium and mineral supplements may also be needed to maintain proper balance. Diuretics also call for drinking more water to avoid dehydration.
Lower blood pressure with meditation and deep breathing.
Exercise and deep breathing are key factors in reducing high blood pressure -- especially when it is due to stress. Massage and meditation are also excellent ways to lower blood pressure. Aromatherapy and essential oils can help lower blood pressure and bring about relaxation. Essential oils are also good to use when practicing deep breathing.
Reduce stress to lower blood pressure.
Try aromatherapy for its stress reducing benefits. Essential oils like lavender can help the body and mind to relax which automatically lowers blood pressure.
Other remedies for high blood pressure
Niacin supplements can help lower blood pressure by increasing size of blood capillaries. Sometimes this causes flushing or hot flashes. Using a dry skin brush can stimulate circulation and help lower blood pressure. An old remedy for high blood pressure sounds silly but doesn't hurt to try – pull the middle fingers three times a day for 20 seconds each time.
* Sometimes licorice can cause elevated blood pressure. Garlic may interact with prescription blood thinner medications such as warfarin. Hawthorn can increase the effects of many prescription heart medications. Always consult with a healthcare professional before using any herbal remedy or before adding any mineral supplement to the diet. An imbalance in minerals can cause heart problems to get worse. Severe imbalances can be fatal.



"The only way to really learn about herbal medicine is to touch and smell herbs, taste them, use them daily, and grow them if possible. Herbal medicine is a way of life. It is not a quick fix." ... Janice Boling, herbalist, web designer, writer, photographer
"Ointment and Perfume Rejoice the Heart." Proverbs 27:9
* Note - the information on this website has not been evaluated by the Food and Drug Administration.
© 2005-2018 website and all content by Janiceboling