Tips for using lavender in herbal medicine and home remedies
Lavender is used to help heal burns, acne, athlete's foot, dandruff, eczema, psoriasis, boils, abscesses, bruises, and insect bites. It helps reduce swelling, fungal growths, scarring, and stretch marks. Lavender promotes rapid healing and relieves headache pain. Lavender also provides a wonderful essential oil oil that can be applied to the skin in its undiluted state. Just dab it on a sting or bug bite for immediate relief.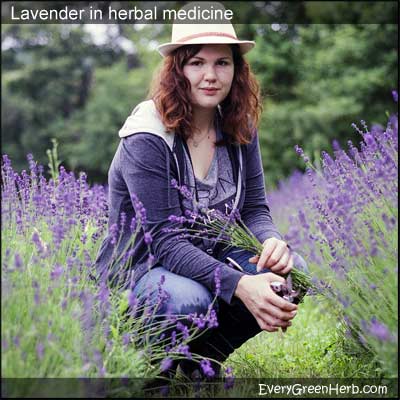 Photo of woman in lavender field -- Courtesy of Pexels.com
Lavender plants are easy to grow in most home gardens although they do prefer full sun and low humidity.
Keep Lavender Essential Oil in your medicine cabinet.
Lavender (Lavandula Augustifolia or Lavender Officinalis) is a favorite herb and is used to make many products including a wonderful essential oil with many uses. Every medicine cabinet should contain a bottle of lavender essential oil. If you have just one essential oil, make it lavender.
Lavender helps ease depression and heals the skin.
Lavender is an antidepressant and antiseptic. The scent can be surprising because it is not sweet. It is long-lasting and light with woody undertones and some say it smells more like medicine than a flower.
The scent of lavender eases headache pain.
Lavender restores balance, can ease headache pain, and aids restful sleep. It helps relieve flu symptoms, bronchial problems, hay fever, and asthma. Lavender can help stop nausea and vomiting. It aids in the digestion of fats and can help lower blood pressure. Just put a drop or two on a napkin and inhale the vapors or add 10 to 12 drops to a hot bath and soak for a while.
Use lavender to treat stress.
Lavender helps alleviate stress and reduces nervous tension. Try tying lavender flowers up in a piece of cheesecloth or other thin material and putting under your pillow at night. It helps bring a restful sleep. Lavender essential oil makes a wonderful massage oil when combined with olive or grape seed oil. Lavender also makes a soothing rub for arthritis and rheumatism.
Lavender is not usually used as a culinary herb - it can taste like soap if overused in food.
Lavender essential oil was a key ingredient in smelling salts. It has been used for centuries to relieve fainting spells. Tinctures were made out of lavender flowers to use as mouthwash although the taste is a little like soap and not very pleasant.
Lavender essential oil adapts to the person.
Lavender essential oil contains more than 100 chemicals compounds that calm the central nervous system. It is used to treat depression and other nervous conditions. It can also revive a person depending on need. Lavender is adaptable to what an individual requires. If you need energy -- inhale the scent of lavender. If you nee to relax -- inhale the scent of lavender. This is an unusual quality that makes lavender a must have in every home.
Other uses for lavender
There are many non-medical uses for lavender oil. It can be rubbed into oak furniture to give a high gloss. It repels moths, fleas, silverfish, and flies. Lavender oil is an essential ingredient in many fragrances and perfumes.
Lavender plants prefer soil that is on the dryer side.
The lavender plant makes a fine addition to the home garden. It is a woody perennial that grows from one to four feet tall. The fragrant blossoms are deep purple to bright blue. The leaves are gray green. Lavender requires full sun and rapidly draining soil. Lavender plants do not do well in long periods of high humidity. Propagate from seeds or stem cuttings.
Lavender plants do not like high humidity or wet feet.
Lavender can be difficult to grow in the humid conditions of southern summers. Raised beds offer a solution for drainage problems. A mulch of pea gravel or flat stones can help. Heat reflecting from the rocks can help keep the foliage dry. Placing plants far enough apart so that air can freely circulate is also recommended. Lavender is worth the extra effort as it makes a beautiful addition to the herb garden or flower border.
* Please consult with a physician before using any herbal remedy.



"The only way to really learn about herbal medicine is to touch and smell herbs, taste them, use them daily, and grow them if possible. Herbal medicine is a way of life. It is not a quick fix." ... Janice Boling, herbalist, web designer, writer, photographer
"Ointment and Perfume Rejoice the Heart." Proverbs 27:9
* Note - the information on this website has not been evaluated by the Food and Drug Administration.
© 2005-2018 website and all content by Janiceboling