Tips for using anise essential oil in herbal medicine, home remedies, and aromatherapy
Anise essential oil is used in many herbal products. Extracted from the seed of the Pimpinella Anisum plant, it is often added to herbal cough lozenges, perfumes, cosmetics, toothpastes, and natural insect repellents.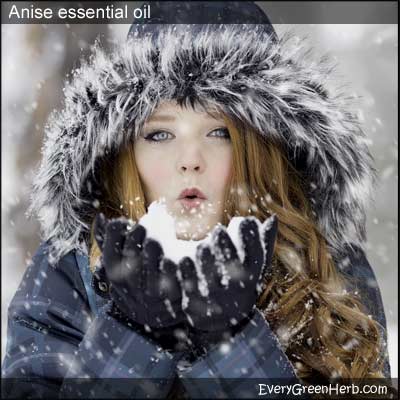 Woman on a cold snowy day -- photo courtesy of Pexels.com
Anise essential oil makes a great muscle rub that warms the body after a cold, winter day.
Mix anise essential oil with eucalyptus essential oil for chest rubs.
Mix anise essential oil with eucalyptus essential oil and a good carrier oil like almond oil. Use as chest rub when treating coughs. Anise essential oil also improves digestion and helps relieve headache pain when used in aromatherapy. Anise essential oil warms the body and clears the mind. It is good for the respiratory system and helps relax tired muscles. Use anise essential oil with a good carrier oil in massage after a long winter day. It's a great way to get the chill out of your body. Visit wikipedia for photos of anise.
Herbal ointment recipe
To make anise ointment, which is thicker than straight oils, melt a tablespoon of beeswax with with two tablespoons of carrier oil over low heat. While mixture is still warm add a few drops of anise essential oil and stir well. Add eucalyptus essential oil for extra strength. Place in a small, tightly covered jar and store in a cool place or the refrigerator. Discard if mold appears or scent becomes rancid. Find more tips about making herbal ointments.
* Dilute essential oils before use with a good cold-pressed carrier oil like olive or almond oil. Never take essential oils internally. Always consult with your healthcare professional before using any herbal remedy or essential oil especially if pregnant, nursing, under the age of eighteen, or taking other medicines.



"The only way to really learn about herbal medicine is to touch and smell herbs, taste them, use them daily, and grow them if possible. Herbal medicine is a way of life. It is not a quick fix." ... Janice Boling, herbalist, web designer, writer, photographer
"Ointment and Perfume Rejoice the Heart." Proverbs 27:9
* Note - the information on this website has not been evaluated by the Food and Drug Administration.
© 2005-2018 website and all content by Janiceboling