Tips for using cayenne pepper in herbal medicine and home remedies
Cayenne pepper is a circulatory stimulant that promotes sweating. It is also antiseptic, antibacterial, and a nerve tonic. Used topically on the skin, cayenne increases blood flow to the area and is often used to counteract conditions such as shingles. Cayenne is considered an herbal catalyst. When a pinch of cayenne powder is added to any herbal tea, it increases the effectiveness.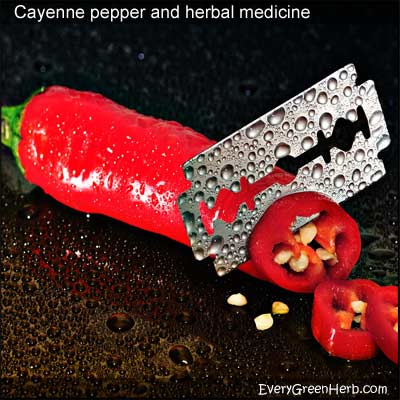 Cayenne pepper -- photo courtesy of Pexels.com
Cayenne pepper is an herbal catalyst. Adding a pinch of it to tea will increase healing properties.
Capsicum is good for treating colds.
The active ingredient in cayenne pepper is called capsicum. Capsicum increases appetite and helps fight colds. It is used to treat the flu, chills, heart problems, and throat problems including hoarseness. Capsicum also helps ease pain – even severe migraine and cluster headaches.
Capsicum from cayenne peppers relieves pain and itching.
Capsicum relieves pain (and itching) by acting on sensory nerves. Capsicum use leads to a temporary depletion of neurotransmitters so pain signals can no longer be sent. Capsicum also reduces platelet stickiness and is often used as a circulatory tonic. Capsicum has an energizing effect on the entire body. It has traditionally been used for overcoming fatigue and restoring stamina. Some herbalists consider cayenne peppers to be one of the most useful herbal remedies known to man.
Use cayenne as a gargle for sore throat.
Powdered cayenne pepper can be used as a gargle for sore throat. It also makes a fine compress when applied to sprains and bruises (do not leave on for too long – remove compresses after five minutes). Cayenne is often added to massage oils, creams, and lotions for use in the treatment of arthritis, rheumatism, shingles, psoriasis, other skin problems, and eczema.
Always test on small area before using on skin.
Add powdered red cayenne until cream becomes light pink in color. (People with sensitive skin should use gloves when applying or handling any hot pepper product.) Always test on a small area before using on larger area and remove the seeds before use.
Cayenne and other hot peppers increase the flow of stomach secretions that are needed to break down proteins and fat. Cayenne can greatly benefit the digestion and is known to help ease stomach cramps and gas.
Cayenne helps protect against frostbite.
Cayenne pepper is used both internally and externally in colder climates to protect against frostbite. It is usually taken as a tea to increase body temperature and to increase circulation to the extremities.
Cayenne in the kitchen
Cayenne is no stranger in the kitchen and gives a kick to bland foods. It is even used in desserts! Cayenne makes an interesting addition to hot chocolate, cookies, and cake. For a tasty hot chocolate and cayenne pepper recipe, visit Season with Spice.
Cayenne pepper plants require warm weather.
Cayenne pepper is originally from South America and is related to bell peppers and jalapenos. Cayenne peppers plants prefer warm, moist, nutrient-rich soil and a warm climate. The plants reach a height of about 3 feet and have attractive, dark green leaves. They thrive in tropical regions - however they do just fine when grown as annuals in temperate climates. Peppers prefer full sun. They cannot tolerate frost and seeds are usually started indoors.
* Cayenne should never be used around the eyes or on broken skin. Always test a small area of skin before applying any herbal product to a large area. Leave on overnight and check for irritation before resuming use. Cayenne may irritate the digestive system if taken on an empty stomach. Excessive use can lead to liver damage. Always consult with a healthcare professional before using any herbal remedy especially if pregnant, nursing, or taking other medications.



"The only way to really learn about herbal medicine is to touch and smell herbs, taste them, use them daily, and grow them if possible. Herbal medicine is a way of life. It is not a quick fix." ... Janice Boling, herbalist, web designer, writer, photographer
"Ointment and Perfume Rejoice the Heart." Proverbs 27:9
* Note - the information on this website has not been evaluated by the Food and Drug Administration.
© 2005-2018 website and all content by Janiceboling