Every Green Herb
Every Green Herb is an online archives of my articles originally published in the North Georgia News, a weekly newspaper serving Blairsville, Georgia. If you would like to contact me with questions or comments, email Janice Boling at hometown30512@yahoo.com.
Life on Payne Mountain Farms
Payne Mountain Farms is located in the North Georgia Mountains near the Appalachian Trail. The farm has been in our family for over a hundred years. We try to be as organic as possible -- putting our animals' health and happiness before profit margins. Listed below are pages about the farm with pictures and videos about everything from grinding feed and bottle-feeding a calf to growing medicinal herbs and using them on a daily basis.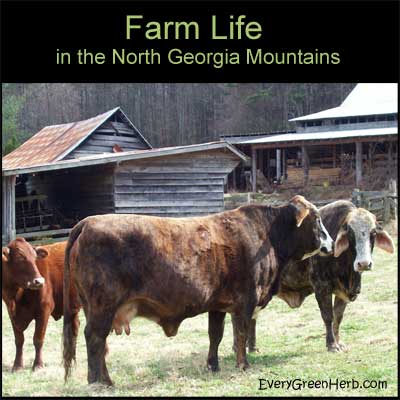 Cows on the farm -- photo by Janice Boling
The goal at Payne Mountain Farms is to keep our animals healthy and happy.



"The only way to really learn about herbal medicine is to touch and smell herbs, taste them, use them daily, and grow them if possible. Herbal medicine is a way of life. It is not a quick fix." ... Janice Boling, herbalist, web designer, writer, photographer
"Ointment and Perfume Rejoice the Heart." Proverbs 27:9
* Note - the information on this website has not been evaluated by the Food and Drug Administration.
© 2005-2018 website and all content by Janiceboling