Tips for making herbal hair rinses and herbal scalp treatments
Some herbs are especially suited for beauty products. Natural washes, hair rinses, bath salts, skin creams, facial moisturizers, cuticle lotions, and foot scrubs are easy to make and fun to use. Home-made beauty treatments are effective and most of the ingredients are inexpensive.The hair and scalp respond beautifully to herbal treatments. Natural hair rinses are simple to prepare and serve many purposes. Herbal hair rinses and treatments protect, strengthen, and soothe both hair and scalp. They help the hair to shine with healthy radiance. Start with the following recipes and experiment to see what works best for your hair type.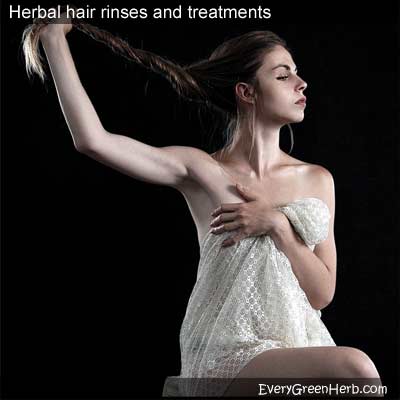 Photo of girl with long hair -- courtesy of Pexels.com
Brunettes should rinse hair with cinnamon and sage tea. Oily hair? Try rosemary and mint.
Herbal rinse recipe for normal hair:
For normal hair simmer 1 cup fresh elderberries in a pint of water for 15-20 minutes. Strain and apply to hair. Wait 15 minutes and rinse again with vinegar water -- 1 tablespoon vinegar to 1 cup water. Hair will be shiny and luxurious.
Herbal rinse recipe for dry or processed hair:
For dry and processed hair add 1 teaspoon of borax to 6 pints of warm water. Add 1 teaspoon of cider vinegar and 6 drops of chamomile essential oil. Shampoo hair and rinse with borax mixture. You might rinse it out or you might leave it in. Everyone is different so try different things to see what works best for skin, scalp, and hair type.
Herbal rinse recipe for oily hair:
For oily hair steep 1 tablespoon mint leaves, 1 tablespoon rosemary leaves, and the juice of one lemon in a cup of hot water for 15 minutes. Strain and rinse hair with this infusion.
Herbal rinse recipe for limp hair:
For limp hair steep 1 tablespoon of rosemary in 1 cup of hot water. Add the juice of 1 lemon and 2 tablespoons of beer. Use as a final rinse after shampoo.
Herbal rinse recipe for blonde hair:
For blonde hair, rinse with equal amounts of lemon juice and water. Leave in for 15 minutes, then rinse with plain water. Infuse 4 ounces of dried chamomile flowers in 2 cups of hot water for 30 minutes. Rinse again with the chamomile.
Herbal rinse recipe for brunette hair:
For brunette hair rinse with cinnamon water. Add 4 sticks of cinnamon or 4 drops of cinnamon essential oil to 1 cup boiling water. Leave to cool and apply to freshly washed hair. A coffee rinse may also benefit brown hair.
Herbal rinse recipe for red hair:
For red hair rinse in the cooking water left over from boiling fresh beets. Rinse again with red wine.
Herbal rinse recipe for black or dark brown hair:
For black or dark brown hair simmer 1 ounce of sage leaves in 1 quart of water for 30 minutes. Steep for another hour and apply to hair. Leave on for 30 minutes and rinse again in plain water.
Use sage for dull, gray hair:
Sage is the traditional remedy for dull, gray hair. Drink sage tea and use as hair rinse. Sage, rosemary, and nettle may be combined if desired.
Herbal rinse recipe for itchy scalp and dandruff:
For itchy scalp or dandruff prepare this ancient Roman recipe. Bring 2 cups of water to almost boiling, add 2 ounces of fresh nettle tops. Remove from heat and steep for 15 minutes. Strain and apply to clean hair and scalp. You can also substitute 4 teaspoons of dried nettle or 2 nettle tea bags for fresh nettle. Add birch leaves, rosemary, or sage for extra benefits.
Another treatment for itchy scalp is a mixture of 2 tablespoons cider vinegar and 6 drops of chamomile essential oil. Pour over wet hair and massage gently. Do not rinse out. Repeat three times a week.
Test on small area before using on whole head - color results can be unpredictable.
These rinses may be rinsed out or left in depending on hair texture. They may temporarily or permanently lighten, bring out highlights, darken, or change the color of your hair. Test on a hidden section before using on whole head to avoid unexpected results. There are many natural, inexpensive ingredients that make excellent hair and scalp rinses and conditioners. Thyme adds shine and luster. Comfrey is soothing for most scalp irritations. Calendula adds body to hair. Fruit pulp, especially avocado is good for processed or dry hair -- put must be washed out. The list goes on and on.
* Always treat herbs with respect and use common sense. If irritation develops discontinue use. Avoid sage if pregnant or epileptic. Never use hot water on the hair or scalp. Longer hair and gray hair probably need conditioner to prevent tangles and breakage.



"The only way to really learn about herbal medicine is to touch and smell herbs, taste them, use them daily, and grow them if possible. Herbal medicine is a way of life. It is not a quick fix." ... Janice Boling, herbalist, web designer, writer, photographer
"Ointment and Perfume Rejoice the Heart." Proverbs 27:9
* Note - the information on this website has not been evaluated by the Food and Drug Administration.
© 2005-2018 website and all content by Janiceboling