Mullein's spongy leaves are used to treat lung conditions.
Mullein is useful for treating coughs and other lung conditions. The leaves and flowers are used to treat bronchitis, colds, flu, earaches, emphysema, and laryngitis. Mullein tinctures, teas, and syrups help bring up sticky phlegm. Mullein is used to fight bacteria and helps inhibit the spread of flu viruses.
Mullein sends up a tall flower stalk in its second year.
Mullein grows wild in the North Georgia Mountains and is a bi-annual. It blooms during the 2nd summer and can be spotted easily. A tall spike covered with little yellow blooms rises from a rosette of large, velvet-like leaves. It is not bright green but has a greenish-white hue. Mullein can grow up to eight feet tall although usually reaches a height of about four feet.
Mullein is used extensively in herbal medicine.
Mullein has many uses. It can be used to relieve scorpion stings, eye complaints, toothache, tonsillitis, asthma, and throat inflammation. When infused in carrier oil, mullein is good for soothing an earache. When incorporated into a salve, mullein is good for wounds, hemorrhoids, skin problems like eczema, and inflamed eyelids. Mullein is also good for digestive problems including irritable bowel syndrome.
Combine mullein with other herbs for extra strength.
In cases of chronic respiratory problems, mullein is good combined with mulberry bark, cowslip root, elecampane, sweet violet, anise, or thyme. Mullein is considered a mild sedative and an excellent expectorant. When using mullein to treat coughs due to colds, combine with horehound and lobelia. Mullein is also good for treating burns because of its high mucilage content.
Mullein makes a potent herbal tea.
When using in tea form, use one cup of water to a tablespoon of dried, crumbled leaf and/or flowers. Steep fifteen minutes and then strain through a fine cloth. Drink three to four cups per day. As with all herbs, many doses throughout the day are best.
Mullein promotes sweating.
American Indians use mullein to promote sweating. This property can be utilized when treating feverish chills.
Other uses for mullein
Many old timers smoked mullein as a remedy for asthma. Mullein leaves were also used to wrap apples to store for the winter. The dry leaves were used to start campfires as they make an excellent tender. Mullein stalks were once used as tapers to light the way in funeral processions.
Harvest mullein in mid-summer.
Mullein likes rather dry soil. Leaves and flowers should be collected in mid-summer. Do not harvest mullein plants that grow along busy highways or in areas that might have been sprayed with herbicide.
Mullein used to grow in abundance, but is quickly disappearing due to its reputation at a weed. If you happen to have a wild mullein plant, consider its value as a medicinal herb before labeling it as useless. Some popular seed companies now sell mullein seeds - you can also purchase dried mullein and wild mullein seeds at Payne Mountain Farms. The tall plants are quite attractive in the back of a flower border.
* Do not use mullein infused oil in the ear if there is any chance of a perforated eardrum. Always consult a physician before using any herbal remedy.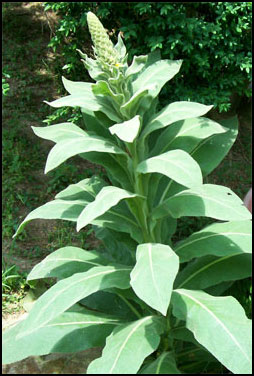 "The only way to really learn about herbal medicine is to touch and smell herbs, taste them, use them daily, and grow them if possible. Herbal medicine is a way of life. It is not a quick fix." ... Janice Boling, herbalist, web designer, writer, photographer
"Ointment and Perfume Rejoice the Heart." Proverbs 27:9
* Note - the information on this website has not been evaluated by the Food and Drug Administration.
© 2005-2018 website and all content by Janiceboling