Tips for using basil essential oil in herbal medicine, home remedies, and aromatherapy
Basil essential oil is distilled from the flowering tops and leaves of the basil plant. The scent is light and refreshing with sweet spicy undertones.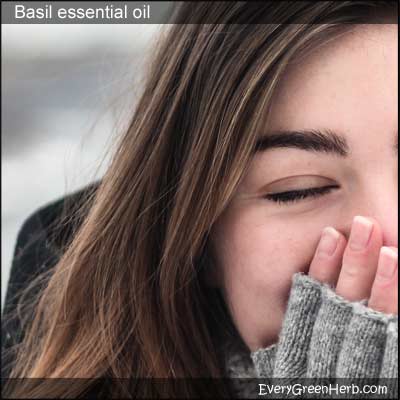 Woman with hiccups -- photo courtesy of Pexels.com
This woman with hiccups needs to sniff basil essential oil.
Basil essential oil has many uses in herbal medicine.
Basil essential oil settles an upset stomach, stops nausea, soothes skin abrasions, improves digestion, relieves headaches, and helps clear the sinuses. Basil essential oil is used in the treatment of allergies, hay fever, asthma, gout, skin problems like acne, and nervous disorders. It stops hiccups, cleans the kidneys, helps regulate menstrual periods, and aids concentration.
Basil essential oil and aromatherapy
Basil essential oil clarifies the mind and uplifts the spirit. It is mentally stimulating and may be an aphrodisiac in some cases.
* Avoid basil essential oil if pregnant. Dilute essential oils before use. Never take internally unless advised by your healthcare professional. Always consult with your healthcare professional before using any herbal remedy or essential oil.



"The only way to really learn about herbal medicine is to touch and smell herbs, taste them, use them daily, and grow them if possible. Herbal medicine is a way of life. It is not a quick fix." ... Janice Boling, herbalist, web designer, writer, photographer
"Ointment and Perfume Rejoice the Heart." Proverbs 27:9
* Note - the information on this website has not been evaluated by the Food and Drug Administration.
© 2005-2018 website and all content by Janiceboling