Tips for using rosemary essential oil in herbal medicine and aromatherapy
Rosemary essential oil is known as The Dew of the Sea. Rosemary is a favorite essential oil with many uses in herbal medicine and aromatherapy. It is sometimes called the "dew of the sea." Rosemary essential oil has a distinctive scent and is the most stimulating of all essential oils. It is strong, clean, refreshing, uplifting, and slightly minty with a hint of pine. Rosemary essential oil is distilled from the leaves of the plant.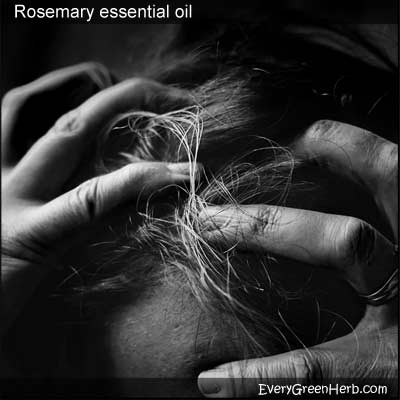 Photo of itchy scalp -- courtesy of Pexels.com
Itchy scalp, dandruff problems, and premature balding can be treated with rosemary essential oil.
Use rosemary essential oil in the treatment of hair and scalp problems.
Rosemary essential oil has a tightening effect on the skin due to its astringent properties. It is useful in the treatment of skin problems like acne, dandruff, greasy scalp, itchy scalp, varicose veins, and sagging skin. It is often used to promote hair growth and to prevent premature balding. Regular use of rosemary oil helps stimulate hair follicles resulting in stronger hair. Rosemary oil also slows down the graying of hair. When treating scalp problems, combine with tea tree oil and dilute with water for a rinse or oil for a treatment. Do not use essential oils without diluting them first.
Rosemary essential oil is used in herbal medicine and aromatherapy.
Rosemary essential oil energizes and stimulates the central nervous system. It clears the head, aids memory, relieves headaches, and can stop migraines associated with gastric upsets. Rosemary essential oil helps rid the body of cellulite and excess water. It helps gout and relieves tired aching muscles. Rosemary is also useful when treating anemia - combine with sweet marjoram for best results.
Rosemary essential oil is good for the respiratory and digestive systems.
Rosemary essential oil can clear chest congestion and help rid the body of infection. It helps protect the liver from associated diseases such as hepatitis, jaundice, and cirrhosis. Rosemary also helps to improve gallbladder function.
Rosemary essential oil fights bad breath.
Make a gargle for treating bad breath by combining a few drops of rosemary essential oil with a half cup of distilled water. Use often throughout the day.
Reach for rosemary essential oil when fighting fatigue.
In aromatherapy, rosemary essential oil is used for treating lethargy, stress, forgetfulness, asthma, and sore muscles. Rosemary clears the mind, restores memory, and makes the mental processes sharper. When preparing for a test of any kind, take along a bottle of rosemary essential oil (the green herb works, too). When stumped on a question, inhale the scent of rosemary. It really helps to unlock the memory!
Rosemary is considered the herb of fidelity, love, and abiding friendship.
Rosemary branches are made into wedding wreaths and planted on graves. People burned rosemary during the plague to fight infection. It was even used in field hospitals during WWII as a kind of healing incense. The oil and the leaves have an antiseptic and purifying effect on stale air. Rosemary essential oil should be used in office buildings, nursing homes, and hospitals to freshen the air. It is much better for the lungs than spray room fresheners which contain harmful toxins.
Rosemary has preservative qualities.
In some cultures, people wrap meat in rosemary leaves to stop it from spoiling. People also spray a mixture of rosemary essential oil and water to remove bad odors from the air.
* Do not use Rosemary essential oil in cases of hypertension, high blood pressure, and epilepsy. Keep all essential oils away from the eyes. Do not take essential oils internally without consulting a qualified professional. Always dilute essential oils with good carrier oil and test on small area of skin before use. Always consult with a healthcare professional before using any herbal remedy especially if pregnant, nursing, or taking other medicines.



"The only way to really learn about herbal medicine is to touch and smell herbs, taste them, use them daily, and grow them if possible. Herbal medicine is a way of life. It is not a quick fix." ... Janice Boling, herbalist, web designer, writer, photographer
"Ointment and Perfume Rejoice the Heart." Proverbs 27:9
* Note - the information on this website has not been evaluated by the Food and Drug Administration.
© 2005-2018 website and all content by Janiceboling