Tips for using hyssop in herbal medicine, aromatherapy, and home remedies
Hyssop is a compact, shrubby perennial that grows about two feet tall. It has smooth, narrow leaves that grow opposite on woody stems with spikes of white, pink, or blue flowers. Hyssop makes an attractive addition to the flower border. The whole hyssop plant is deliciously aromatic. Bees love the flowers which give a wonderful flavor to their honey. There are many varieties of hyssop currently available including golden, double, broad leaved, narrow leaved, and round leaved.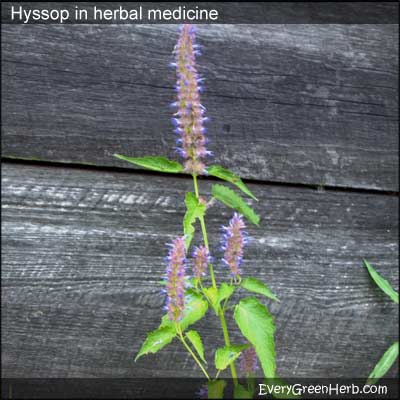 Hyssop growing on Payne Mountain Farms - Photo by Janice Boling
Hyssop is used in the treatment of bronshitis, colds, flu, and other health problems.
Hyssop relaxes blood vessels and eases flu symptoms.
Hyssop leaves and flowers promote sweating and reduce phlegm. The herb is used to treat bronchitis, colds, chills, flu, asthma, herpes, and rheumatism. Hyssop relaxes peripheral blood vessels which results in better circulation. Its anti-viral and anti-inflammatory properties make it an excellent choice for relieving flu and cold symptoms, especially when used in compresses and poultices. Hyssop can also be combined with figs and used to treat constipation. Combine hyssop tea with licorice, anise, or mullein when treating bronchitis and other lung conditions.
Hyssop essential oil relieves stress.
Hyssop essential oil is uplifting and increases alertness. It is also a gentle and relaxing nerve tonic suitable for treating anxiety and depression. Use of hyssop essential oil eases feelings of grief, nervous exhaustion, and guilt. An effective chest rub is made by combining 5 drops each of hyssop, thyme, and eucalyptus essential oils with a quarter cup of good carrier oil. Use liberally in the treatment of cough and asthma. This mixture may also be used in the bath.
The Bible calls for hyssop to purify and cleanse.
The Bible calls for the use of hyssop in many Old Testament purification and cleansing ceremonies. Psalm 51:7 says, "Cleanse me with hyssop, and I will be clean; wash me, and I will be whiter than snow." Exodus 12:22 gives directions for the Passover, "Take a bunch of hyssop, dip it into the blood in the basin and put some of the blood on the top and on both sides of the doorframe."
Hyssop meatball recipe
Hyssop is also used as a culinary herb. A delicious meatball recipe calls for eight ounces lean ground beef, eight ounces sausage, one chopped onion, two cloves chopped garlic, two tablespoons chopped parsley, two tablespoons chopped hyssop, one large egg, one teaspoon ground black pepper, and salt to taste. Roll up mixture into medium sized balls, roll in sesame seeds, and fry until browned. Hyssop is also good when made into thick syrup and served with fruit or custard.
Hyssop plants prefer full sun
The plant prefers full sun and well drained soil slightly on the alkaline side. Wild hyssop is often found growing by roadsides and in dry, grassy meadows. Propagate by seeds, stem cuttings, or root divisions. Once established, hyssop will thrive with little care for many years. Harvest hyssop while flowering in late summer and dry for winter use.
* Hyssop essential oil is not for internal use. Do not use hyssop essential oil in high doses as convulsions may occur in sensitive individuals. Always consult with a healthcare professional when using any herbal remedy especially when pregnant, nursing, or taking other medications.


"The best way to really learn about herbal medicine is to touch and smell different herbs, taste them, use them daily, and grow them if possible. Herbal medicine is a way of life. It is not a quick fix." Janice Boling -- herbalist, web designer, artist, and writer
"Ointment and Perfume Rejoice the Heart." Proverbs 27:9
I love to hear from my readers and my customers. The best way to reach me is by email at hometown30512@yahoo.com -- I answer emails several times daily.
Looking for one-of-a-kind gifts or fashion accessories? Visit Dancing Calico for wearable art, mobiles, sun catchers, beaded jewelry, little purses, medicine bags, and more.

* Note - the information on this website has not been evaluated by the Food and Drug Administration.
** Most of the articles in this online herbal encyclopedia were first published by the North Georgia News in a weekly column titled Every Green Herb (by Janice Boling).
© 2005-2020 website design and content by Janiceboling