Orange vegetables like pumpkin are healthy additions to the diet.
Everyone should really load up on pumpkin, squash, and sweet potatoes when they come into season during late summer and early fall. These orange fall vegetables are super foods with lots of live enzymes to provide energy for fighting off disease causing organisms.
Choose pumpkin pie for dessert instead of cream pies, cakes, pastries, and ice cream. Roasted pumpkin and squash are delicious and easy to prepare. Just peel, cut into pieces, season, and bake until tender. There are lots of good recipes on the internet that feature orange vegetables and warming spices. Visit Good Housekeeping to get the Easiest Ever Pumpkin Soup recipe.
Use medicinal spices to sooth symptoms of colds and flu.
Cinnamon, cloves, ginger, allspice, and nutmeg can also help if a cold or flu strikes. They sooth the worst symptoms and shorten duration of illness. Add warming spices to a cup of chamomile or mint tea. Inhale while sipping and allow the vapors to fill the sinuses.
Ginger, Honey and Cinnamon Tea Fights Colds, Sore Throats and More
The following video show how to build your immune system with ingredients like cinnamon, ginger, and honey.
Choose pumpkin pie for dessert.
Pumpkin pie is one of my favorite things and it makes a delicious, healthy choice for dessert. Lower in calories and fat than most desserts, pumpkin pie is packed full of vitamins, minerals, and warming medicinal spices that help shorten duration of winter colds.
Mom's pumpkin pie custard recipe:
This is a delicious recipe that can be used for pie with crust or alone as a custard. Cut one small pie pumpkin in half and remove the seeds and stringy pulp. Place upside down in an oven proof dish and bake until tender. Pour off liquid. Cool, remove tough outer skin, and mash like potatoes (an electric mixer works great). For each cup of mashed pumpkin, add a fresh egg, a pinch or two of salt, sweetener like maple syrup to taste, around a quarter cup of evaporated milk (or half and half), a splash of vanilla flavoring, one teaspoon of ground cinnamon, a quarter teaspoon of ground cloves, a quarter teaspoon of ground ginger, a quarter teaspoon of ground allspice, and an eighth teaspoon of ground nutmeg. Miniature marshmallows, cream cheese, chia seeds, pecans, or other nuts can also be added if desired. Stir well and bake in a pie shell or buttered casserole dish until set like Jell-O. Serve with whipped cream for dessert or plain as a side dish.
Tips for using clove and clove essential oil in herbal medicine, home remedies, and aromatherapy
The wonderful aroma of clove is warm and exotic. Use clove essential oil in aromatherapy to uplift the mind and spirit. The taste of cloves adds interest to everything from bread to pumpkin pie. Use ground clove to flavor cookies, baked apples, and spicy stews.
Clove is used in herbal medicine to help stop toothache and bring up phlegm from the lungs. Powdered cloves makes a tasty herbal tea that is warming and helps fight infection.
Using clove as a medicinal spice
Clove helps to relieve pain, stop nausea, and remove toxins from the body by speeding up digestion. Clove also helps heal inflammation, kills intestinal parasites, and acts as an agent against fungus and bacteria. Clove contains antihistamine properties that help control mucus buildup. Clove essential oil is highly antiseptic and protects against viral infections. Clove essential oil is also a well known home remedy for relieving toothache pain.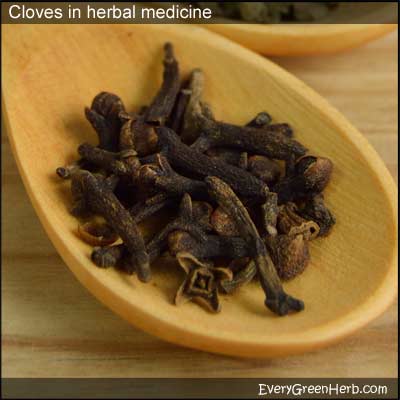 Spoonful of whole cloves -- photo courtesy of Pexels.com
Cloves are used in aromatherapy, in favorite recipes, and in herbal medicine.
Clove essential oil numbs the gums.
Clove essential oil is derived from the buds of the clove tree. Several parts of the clove plant are used in herbal medicine including the oils, dried flower buds, leaves, and stems. Clove essential oil is strong medicine so use with caution. SInce clove essential oil has a numbing effect on the gums, it is often used to relieve toothache pain and should be kept in every medicine cabinet.
Clove - home remedy for nausea
It is also used in the treatment of nausea and vomiting. Clove essential oil can be used when treating colds, flu, and stomach virus. Clove oil is very antiseptic and has lots of antioxidants that build immunity and fight off infection. Powdered cloves make a good tea but should only be used in moderation.
Clove helps the lungs get rid of phlegm.
Cloves are an excellent expectorant for the lungs! Sip clove tea and inhale the vapors. Try to relax. This can really help bronchitis and other lung ailments where mucus is present. Cloves also helps keep the liver in good health. Cloves are full of healthy antioxidants.
Clove essential oil stimulates the mind and spirit.
When inhaled, clove essential oil acts as a stimulant to the body and mind. It also rejuvenates the spirit. Cloves are also good for patients in the early stages of lung cancer and can help regulate a diabetic's blood sugar levels. Studies show that cloves can stop cells from mutating. A wonderful spice in the kitchen, cloves is exotic and full of mystery.
Cloves are used in many products.
Clove is used in breath mints, mouthwash, soap, perfume, cosmetics, and other herbal products. Cloves are best known for use in the kitchen. Whole cloves can be used as pins to attach slices of pineapple to baked ham. Yummy.
Clove repel ants.
Clove is an effective ant repellant. MIx with water and spray or sprinkle powder in ant trails.
Clove trees are native to Indonesia's Spice Islands.
Cloves have been part of the spice trade for hundreds of years. Some clove trees are known to be over 300 years old. Read about Afo -- the oldest clove tree which grows 6,000 foot above sea level.
Using cinnamon as a medicinal spice
Cinnamon is a pungent, sweet smelling, warming herb that stimulates the circulation. Cinnamon is used internally to help digestive problems, reduce flatulence, ease cramping, and provide relief from diarrhea. Its warming action is used to treat colds, flu, body aches, arthritis, and rheumatism.
Tips for using cinnamon essential oil in herbal medicine, home remedies, and aromatherapy
Cinnamon essential oil is distilled from the bark of the cinnamon tree. It has a soft and sweet aroma. Rich, spicy cinnamon essential oil provides an effective remedy for the flu, nausea, fatigue, and depression. It makes a warming ointment for achy joints and arthritis pain. Cinnamon oil is antiseptic and astringent. It is used to help digestion and respiratory problems.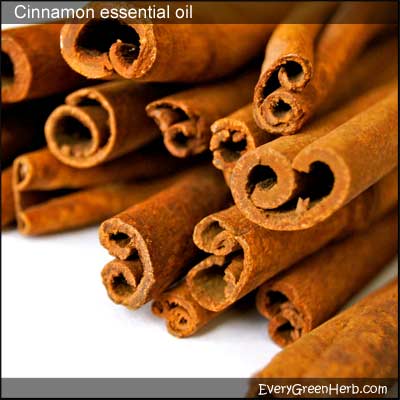 Cinnamon sticks -- photo courtesy of Pexels.com
Cinnamon essential oil is made from the bark of the cinnamon tree.
Cinnamon essential oil has many uses in herbal medicine.
Cinnamon essential oil is used to help treat muscle spasms, vomiting, the common cold, loss of appetite, and erectile dysfunction. Cinnamon essential oil is also used in perfumes, soaps, cosmetics, toothpaste, after shave lotions, skin tonics, and many other herbal products.
Powdered cinnamon is also useful as a herbal remedy.
Small amounts -- half a teaspoon or less -- of powdered cinnamon can help improve blood circulation and digestion. It helps fight bacterial and fungal infections. Cinnamon improves glucose levels in patients with type 2 diabetes and reduces triglyceride levels, LDL cholesterol levels, and total cholesterol levels in some people. Studies show that cinnamon may also help prevent or delay the onset of Alzheimer's disease. Cinnamon can be used to stop diarrhea and stomach gas.
Cinnamon in the kitchen
Powdered cinnamon can be added to herbal tea, apple cider, or hot milk for a delicious beverage. Of course, it is also good on toast and other sweets.
Cinnamon has a long history.
Usually purchased in powdered form for culinary uses, cinnamon has been used since ancient times -- the Bible tells that the Queen of Sheba gave it to King Solomon as a gift. In medieval times doctors used cinnamon to treat conditions such as coughing, arthritis, and sore throats.
Using ginger as a medicinal spice
Ginger has expectorant properties that helps keep the lungs clear. Ginger increases perspiration, improves digestion, stimulates liver function, stops nausea, controls vomiting, and relieves coughing spells. It stimulates circulation, relaxes spasms, and relieves pain. Ginger is used internally for motion sickness, nausea, indigestion, morning sickness, colic, chills, colds, flu, and coughs due to cold. Read more about ginger and ginger essential oil.
Using nutmeg as a medicinal spice
Nutmeg is used internally to treat diarrhea, dysentery, vomiting, abdominal bloating, indigestion, colic, and respiratory problems. Use sparingly because a little nutmeg goes a long way.
Using allspice as a medicinal spice
Allspice is antiseptic and also helps clear the body of mucus. In herbal medicine allspice is used for treating bruises, colds, diarrhea, fatigue, painful spasms, gas, indigestion, and menstrual cramps.
* Do not take essential oils internally without consulting a professional aromatherapist. Dilute essential oils before using on skin. Cinnamon essential oil should not be used during pregnancy. Cinnamon contains coumarin, which has been linked to liver damage so do not use therapeutic doses it if you have liver problems. Do not give cloves to children under three. Clove essential oil should only be used in moderation and only for two weeks at a time. Avoid clove oil when pregnant. Do not consume warming spices if you have ulcers. Always consult with your healthcare provider before using any herbal remedy especially if pregnant, nursing, or taking other medicines.
Thanks so much for reading my blog. Jan.

"The best way to really learn about herbal medicine is to smell different herbs, taste them, use them daily, and grow them if at all possible. Herbal medicine is a way of life. It is not a quick fix so give your herbs time to work." Janice Boling -- herbalist, web designer, artist, and writer
I love to hear from my readers and my customers. The best way to reach me is by email at hometown30512@yahoo.com -- I answer emails several times daily.
* Note - the information on this website has not been evaluated by the Food and Drug Administration.
** Most of my posts in this blog were first published by the North Georgia News in my weekly column titled Every Green Herb.
© 2005-2022 website design and content by Janice Boling