Tips for using chamomile essential oil in herbal medicine, home remedies, and aromatherapy
Chamomile essential oil has an aroma that resembles fresh apples. The scent is strong, dry, and fruity. Chamomile essential oil is distilled from the flowering tops of the plant and is often used when treating digestion and sleep disorders. It can also lighten hair color and help relieve muscular pain.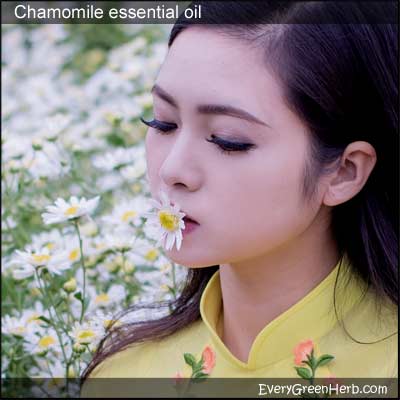 Beautiful woman in field of chamomile flowers -- photo courtesy of Pexels.com
Chamomile essential oil is relaxing and helps rid the mind of fear.
Chamomile essential oil is a very useful home remedy.
Chamomile is useful in the treatment of arthritis, headache, toothache, and earache pain. It regulates menstrual cycles, relieves PMS, and helps menopausal symptoms. Chamomile soothes the stomach, helps improve irritable bowel syndrome, stops diarrhea, heals colic, stops vomiting, helps improve jaundiced conditions, and improves liver problems.
Chamomile essential oil fights infection and heals the skin.
Chamomile essential oil stimulates the production of white blood cells and helps fight infection. It benefits burns, blisters, ulcers, boils, and wounds. Chamomile helps acne, athlete's foot, dandruff, herpes, dermatitis, psoriasis, and allergic conditions. Chamomile essential oil is great for the skin. It improves elasticity and heals dry, itchy patches.
Chamomile essential oil is used in aromatherapy.
Chamomile essential oil is relaxing and removes all traces of tension and fear. It stimulates the mind, memory, and respiratory system. In Germany, chamomile is known as the herb that is capable of anything.
* Do not take essential oils internally. Always consult with a healthcare professional before using any herbal remedy especially if pregnant, nursing, or taking other medicines.



"The only way to really learn about herbal medicine is to touch and smell herbs, taste them, use them daily, and grow them if possible. Herbal medicine is a way of life. It is not a quick fix." ... Janice Boling, herbalist, web designer, writer, photographer
"Ointment and Perfume Rejoice the Heart." Proverbs 27:9
* Note - the information on this website has not been evaluated by the Food and Drug Administration.
© 2005-2018 website and all content by Janiceboling