Hair and scalp problems respond quickly to herbal treatments.
The first step is switching to healthy hair products. Look for organic shampoos and conditioners that don't contain harmful chemicals like phthalates, parabens, and toxic preservatives. I have purchased some excellent products from my local health food store.
You don't have to live with hair and scalp problems.
Problems of the hair and scalp include dandruff, hair loss, premature graying, dull hair, dry hair, greasy hair, and itchy scalp. Many of these conditions can be greatly improved with the use of herbal remedies.
Causes of hair and scalp problems
Many things can cause hair and scalp problems including poor diet, poor circulation, excess sugar, too much salt in the diet, lack of B vitamins, lack of essential dietary proteins, high cholesterol, glandular imbalances, chemotherapy, high blood pressure medications, stress, anxiety, surgery, liver malfunction, severe illness, anemia, hypothyroidism, mineral deficiencies, harsh shampoos, and excessive "beauty" treatments like coloring and perms.
Hair consists of protein layers that overlap like shingles on a roof.
When these proteins lay flat, hair is smooth and has a healthy shine. When ruffled, hair looks porous and shaggy. Damaged hair is dull and limp. Always pat dry after shampooing. Do not rub hair with a bath towel. Be gentle when styling hair. Do not use high heat on hair or scalp.
Herbs for dry hair
If you treat your hair gently but still have dry, brittle hair, you could have a vitamin A, vitamin B12, vitamin C, or zinc deficiency. Try taking a good vitamin supplement and massage scalp with olive oil before bed. Leave in overnight and wash out in the morning.
Herbal rinse for natural locs, kinks, and curls
In the following video, Tabatha shows us how to make an herbal rinse out of medicinal herbs. I am sure it would be good for any hair type that needs conditioning and moisturizing.
Herbal rinse recipe for dry or processed hair:
For dry and processed hair mix 1 teaspoon of borax, 1 teaspoon of cider vinegar, 6 drops of chamomile essential oil, and 4 cups of warm water. Shampoo hair and rinse with borax mixture. You might rinse it out or you might leave it in. Everyone is different so try different things to see what works best for your skin, scalp, and hair type.
Herbs for oily hair
Greasy hair can be due to poor hygiene, overactive oil glands, or a hormonal imbalance. Try rinsing with lemon or vinegar water after every shampoo. You should notice an improvement within a couple of days.
Also try steeping 1 tablespoon mint leaves, 1 tablespoon rosemary leaves, and the juice of one lemon in a cup of hot water for 15 minutes. Strain and rinse hair with this infusion.
Witch hazel and lemon balm applications also help combat oily hair and scalp.
Herbs for getting rid of dandruff
Dandruff can result from eczema, psoriasis, fungal infection, or dry scalp. Massage with vitamin E oil or wheat germ oil every night then wash with a gentle shampoo and rinse with strong rosemary or sage tea in the morning. Herbs can really help keep the hair and scalp healthy!
Herbal rinse recipe for itchy scalp
For itchy scalp or dandruff prepare this ancient Roman recipe. Bring 2 cups of water to almost boiling, add 2 ounces of fresh nettle tops. Remove from heat and steep for 15 minutes. Strain and apply to clean hair and scalp. You can also substitute 4 teaspoons of dried nettle or 2 nettle tea bags for fresh nettle. Add birch leaves, rosemary, or sage for extra benefits.
Another treatment for itchy scalp is a mixture of 2 tablespoons cider vinegar and 6 drops of chamomile essential oil. Pour over wet hair and massage gently. Do not rinse out. Repeat three times a week.
Herbs for gray hair
Premature graying can be hereditary, linked to stress, or caused by premature menopause. Sage is the traditional remedy for graying or dull looking hair. Drink sage tea and use as a hair rinse. Sage, rosemary, and nettle may be combined if desired. All three of these medicinal herbs are great for the hair and the scalp.
Herbal rinse recipe for normal hair
For normal hair simmer 1 cup fresh elderberries in a pint of water for 15-20 minutes. Strain and apply to hair. Wait 15 minutes and rinse again with vinegar water -- 1 tablespoon vinegar to 1 cup water. Hair will be shiny and luxurious.
Herbal rinse recipe for limp hair:
For limp hair steep 1 tablespoon of rosemary in 1 cup of hot water. Add the juice of 1 lemon and 2 tablespoons of beer. Use as a final rinse after shampoo.
Herbal remedies for the hair and scalp
There are many natural ingredients that make excellent hair and scalp conditioners. Plain yogurt is messy but makes an excellent treatment. Rinse with rosemary or thyme tea for added shine and wonderful aroma. Chamomile and comfrey are good for scalp irritation. Calendula adds body to hair.
Use lukewarm water when washing and rinsing hair.
Do not use hot water on the hair and scalp. Rinsing with cider vinegar balances hair ph and adds shine. Olive oil, lavender essential oil, and rosemary essential oil make excellent hot oil treatments when diluted with a good carrier oil like grape seed oil. Leave herbal treatments on overnight for best results.
Dietary changes can help keep hair and scalp healthy.
Eat lots of fresh veggies, fruits, whole grains, soy foods, onions, garlic, bean sprouts, horseradish, greens, eggs, rice, nuts, and seeds. Avoid processed foods, fried foods, sugary snacks, and fast food for healthy hair and scalp.
Essential oils for the hair and scalp:
Hair and scalp can benefit from something as simple as adding essential oil to store bought shampoo and conditioner. Use approximately one quarter teaspoon of essential oil to every 12 ounces of shampoo.
Add orange, sandalwood, or rosewood essential oil if hair is dry. Add peppermint or lemon grass essential oil if hair is oily. Add lavender, chamomile, rosemary, or rose essential oil if hair is normal. When treating dandruff use vinegar and water with carrot seed, geranium, juniper, tea tree, cedarwood, or sage essential oil as a final rinse.
For increased shine with blonde hair add chamomile to shampoo and conditioner. For gorgeous brunette hair, use rosemary, sage, clove, lavender, mint, or marjoram essential oil. On red hair, try clove essential oil.
Herbs are especially suited for beauty products.
Herbal washes, hair rinses, bath salts, skin creams, facial moisturizers, cuticle lotions, and foot scrubs are easy to make at home -- and they are fun to use. Herbal beauty treatments are effective and most of the ingredients are inexpensive.The hair and scalp respond beautifully to herbal products. Natural hair rinses are simple to prepare and serve many purposes. Herbal hair rinses and treatments protect, strengthen, and soothe both hair and scalp. They help the hair to shine with healthy radiance. Start with something simple and experiment to see what works best for your hair type.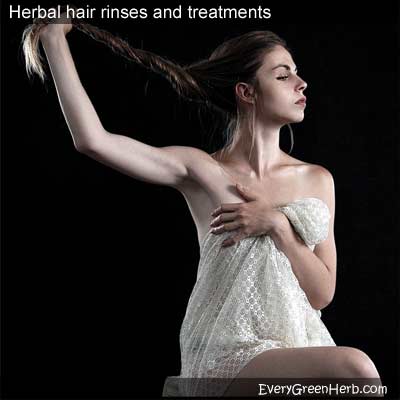 Photo of girl with long hair -- courtesy of Pexels.com
Brunettes should rinse hair with cinnamon and sage tea. Oily hair? Try rosemary and mint.
Herbal rinse recipe for blonde hair:
For blonde hair, rinse with equal amounts of lemon juice and water. Leave in for 15 minutes, then rinse with plain water. Infuse 4 ounces of dried chamomile flowers in 2 cups of hot water for 30 minutes. Rinse again with the chamomile.
Herbal rinse recipe for brunette hair:
For brunette hair rinse with cinnamon water. Add 4 sticks of cinnamon or 4 drops of cinnamon essential oil to 1 cup boiling water. Leave to cool and apply to freshly washed hair. A coffee rinse may also benefit brown hair.
Herbal rinse recipe for red hair:
For red hair rinse in the cooking water left over from boiling fresh beets. Rinse again with red wine.
Herbal rinse recipe for black or dark brown hair:
For black or dark brown hair simmer 1 ounce of sage leaves in 1 quart of water for 30 minutes. Steep for another hour and apply to hair. Leave on for 30 minutes and rinse again in plain water.
Test on small area before using on your whole head - color results can be unpredictable.
These rinses may be rinsed out or left in depending on hair texture. They may temporarily or permanently lighten your hair. Herbal hair and scalp rinses can bring out highlights, darken, or change the color of your hair. Test on a hidden section before using on your whole head to avoid unexpected results. There are many natural, inexpensive ingredients that make excellent hair and scalp rinses and conditioners. Thyme adds shine and luster. Comfrey is soothing for most scalp irritations. Calendula adds body to hair. Fruit pulp, especially avocado is good for processed or dry hair -- but must be washed out. The list goes on and on.
Herbs for pattern baldness
Pattern baldness is usually a hereditary condition but may also be caused by stress or shock. Massage scalp with diluted sage essential oil, cedar wood essential oil, and rosemary essential oil before bed. In the morning shampoo well and rinse with nettle tea. Another remedy to try is arnica. Arnica stimulates circulation which is a key to healthy hair growth. Apply arnica as a cream to affected areas or use diluted arnica tincture as a hair rinse.
Southernwood (Artemisia abrotanum) is also known to stimulate hair growth. Take tincture, infusion, or use as hair rinse. Nettle, rosemary, or sage may be added for extra benefits.
Drink lots of nettle, burdock, and other herbal teas when fighting pattern baldness or any type of hair loss. As you sip your tea, relax and fix your mind on pleasant things. Getting stress out of your life can not only help stop hair loss, it can also bring many other health benefits.
* Always treat herbs with respect and use common sense. If irritation develops discontinue use. Never use hot water on the hair or scalp. Longer hair and gray hair need a good conditioner to prevent tangles and breakage. Sudden hair loss can be caused by various health problems including underactive thyroid. If you find lots of hair on your pillow or in your comb, have your thyroid checked. Avoid sage in therapeutic amounts if you are pregnant or epileptic. Always consult with a healthcare professional before using any herbal remedy.
Thanks so much for reading my blog. Jan.

"The best way to really learn about herbal medicine is to smell different herbs, taste them, use them daily, and grow them if at all possible. Herbal medicine is a way of life. It is not a quick fix so give your herbs time to work." Janice Boling -- herbalist, web designer, artist, and writer
I love to hear from my readers and my customers. The best way to reach me is by email at hometown30512@yahoo.com -- I answer emails several times daily.
* Note - the information on this website has not been evaluated by the Food and Drug Administration.
** Most of my posts in this blog were first published by the North Georgia News in my weekly column titled Every Green Herb.
© 2005-2022 website design and content by JaniceBoling