During times of stress, support the mind, body, and spirit with alternative medicine.
Medicinal herbs and alternative medicine can help protect during times of stress. For best results, try deep breathing, meditation, massage, reflexology, music therapy, crystal therapy, and light therapy. Everyone is different and what does not work for one person, will do wonders for the next person. Don't give up -- there is an herbal remedy just for you!
A loving touch can help heal the body, mind, and spirit.
Human connection is important. When nursing someone back to health remember that a pair of healing hands can do as much as any medicine. Take time to give the personal touch. A pat on the back, a good hug, a gentle foot massage, applying sunscreen to someone's back, giving a manicure, tucking-in the bed-covers, or even just dabbing essential oil on a bug bite can work wonders if done with love. Herbal products can bring health and beauty, but a loving touch uplifts the spirit. Loving hands help protect the body, mind, and spirit from the harmful effects of stress.
Everyone is affected by varying degrees of stress and anxiety.
Too much stress causes fatigue, may lead to panic attacks, and is often dangerous to health -- especially if you believe it to be so. Serious stress such as a job loss or death of a loved one can become life threatening and shorten your life span -- or it can be a time of deep social interaction with other humans and loved ones.
Can stress be our friend?
Stress might not be as bad as we once thought. Stress makes your heart pound, your breathing quicken and your forehead sweat. But while stress has been made into a public health enemy, new research suggests that stress may only be bad for you if you believe that to be the case. Psychologist Kelly McGonigal urges us to see stress as a positive, and introduces us to an unsung mechanism for stress reduction: reaching out to others. This is a very interesting TED video about stress, anxiety, and the heart:
Ease stress, anxiety, and tension with aromatherapy.
Aromatherapy is often used to relieve stress. Lavender, chamomile, and ylang-ylang essential oils are good choices. Use in a diffuser, in massage oils, and warm baths for best results. Try inhaling lavender essential oil for uplifting the spirit and getting rid of depression.
Aromatherapy produces great results when treating anxiety and stress.
For example, the smell of cinnamon and apples can relieve anxiety. It's hard to be anxious while sipping cinnamon tea and remembering grandma's cozy kitchen or mom's apple pie.
Essential oils calm the body and mind.
Neroli essential oil, made from orange blossoms, is known for its calming effects. Combine neroli essential oil and lavender essential oil with almond oil and use in soothing massages. This natural treatment will calm even the most severe case of nerves. Angelica essential oil is noted for its ability to aid in relaxation. Just a sniff of the vapors can help.
Another essential oil useful for treating anxiety is rose essential oil. When damask rose oil is combined with sandalwood or patchouli the calming effect is remarkable. Use in an herbal lotion, massage, or warm bath for best results. Some people find that ylang-ylang is an aid to relaxation. Others might choose chamomile. It takes some trial and error to find out what works best for each individual. Extreme panic attacks may require professional help or group therapy. See the Anxiety and Depression Society of America for more information.
Stress and anxiety can be reduced by making gradual lifestyle changes.
Causes of stress include drug addiction, alcohol dependence, lack of sleep, overwhelming personal problems, depression, sudden change of lifestyle, allergies, chronic illness, mineral depletion, noise pollution, overcrowding, and poverty.
People develop all kinds of symptoms when under stress.
Symptoms of stress vary among individuals but may include losing interest in activities, creases in the forehead, clenched jaws, constipation, diarrhea, weight gain, weight loss, mood swings, crying spells, becoming short-tempered, tiredness, anger, insomnia, paranoia, panic attacks, anxiety, sadness, chronic headache, neck aches, high blood pressure, lowered immunity, upset stomach, skin disorders, kidney malfunction, frequent infections, asthma, heart disease, mental problems, suicidal thoughts, and nervous breakdown.
Many existing health problems are aggravated by stress and anxiety.
Migraines, ulcers, back pain, diabetes, PMS, asthma, digestive problems, and heart disease are often stress related. Keeping stress under control can help keep other conditions from becoming worse.
Mind set can help relieve stress.
The body and the mind are designed to handle stress but sometimes they need help. Seek out family members. Turn to friends for advice and companionship. Get out and meet new people. Adopt a pet. Do some volunteer work. Remember that stress can be a good thing, bringing new challenges and experiences. This can cause a person to gain confidence and possibly even find joy.
Good nutrition is vital to controlling the harmful effects of stress.
Protein and mineral rich foods are good choices for helping the body to overcome stress. Vegetables, whole grains, seafood, soy foods, fresh fish, carrots, brown rice, eggs, and sprouts can greatly benefit the body in stressful times. Adding brewer's yeast, toasted wheat germ, sunflower seeds, and molasses to the diet is also recommended. Also drink plenty of water. Do NOT get dehydrated.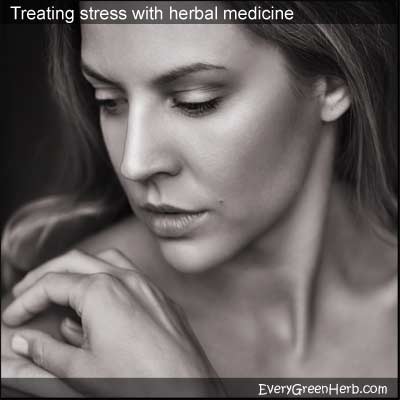 Photo of woman in black and white -- courtesy of Pexels.com
This woman drinks chamomile tea in times of stress which helps her to relax.
Protect adrenal glands in times of stress by adding medicinal herbs to the diet.
During times of extreme stress, it is good to support the adrenals and other endocrine glands with green drinks, calcium supplements, vitamin C supplements, ginseng and honey tea, astragalus, ginkgo biloba, or licorice extract. Other herbs to try include valerian, wild lettuce, bee balm, passion flower, catnip, rosemary, lemon balm, and chamomile.
Laughter really is the best medicine.
Stress is immediately reduced when having a good laugh (watch a funny movie or search the internet for humorous videos). Regular deep breathing exercises, meditation, prayer, aerobic exercise, listening to favorite music, visiting with friends, short vacations, creative hobbies, and celebrating family traditions can also bring relief.
Don't sweat the little things.
If the workplace is stressful, learn to delegate responsibilities whenever possible. The world will continue to turn even if a few things are left undone. Learn to live in the here and now. You can't change the past and the future has not arrived yet. Appreciate life as it is happening and worries will usually fade away. As they say, "Take time to smell the roses."
When under a lot of stress, avoid caffeine and smoke.
Instead of drinking coffee, try chamomile or another favorite herbal tea. Never eat on the run, while working, between meals, or while watching television. Mealtime should be a relaxing time of day so that food can be properly digested. If possible, eat with others and make your meal into a social occasion or family affair.
Anxiety, stress, and panic attacks are on the rise.
Prolonged anxiety and fear deplete the body of its natural tranquilizers. Bad diet and poor eating habits contribute to the problem. Add in polluted air, contaminated water, pesticides, environmental hazards, sedentary lifestyles, isolation, and the nightly news. It's no surprise that people are lonely, nervous, and experiencing more panic attacks than ever before.
Symptoms of anxiety
Nervous disorders have many and varied symptoms depending on the individual. Inability to relax, mood swings, headaches, heart palpitations, sadness or anger with no obvious cause, lack of motivation, irritability, and feelings of emptiness indicate the presence of a nervous disorder.
Try passionflower, valerian, and wild lettuce herbs for relaxation.
Some herbs are especially suited for treating the symptoms of anxiety and stress. Skullcap, passionflower, hawthorn, St. John's wort, valerian, wild lettuce, ginseng, licorice, wood lavender, lemon balm, bee balm (mornada), chamomile, black cohosh, oat straw, rosemary, barley grass, catnip, lobelia, dandelion, parsley, nettles, evening primrose, peppermint, bee pollen, and watercress are considered useful in the treatment of nervous conditions and panic attacks. The choice depends on various factors including what is available.
Herbs operate on three levels including the body, mind, and spirit.
Aromatic herbs and essential oils affect our emotions. Rosemary might be useful in stabilizing mood swings. Bee balm and catnip might aid in getting restful sleep. Valerian, lemon balm, skullcap, or passion flower would be a good choice for the treatment of sudden panic attacks. There are many individual herbs and herbal blends so keep looking until you find the right one.
Calm panic attacks by rebuking fear.
Anxiety, panic attacks, phobias, tension, stress, depression, insomnia, and nervous disorders are running rampant in today's society. In many cases the underlying cause is fear. Fear of failing, fear of poverty, fear of being alone, fear of the future, fear of change, fear of disease, and fear of dying cause stress and many other negative symptoms. I have found the best way to overcome fear is to rebuke it. Rebuke fear -- refuse to give it a place in your life -- then use herbal remedies for relaxation, socialize with other humans, and praise God for His many blessings.
* Do not take essential oils internally. Always consult with your healthcare professional before taking any herbal remedy especially if pregnant, nursing, or taking prescription medicines.


"The best way to really learn about herbal medicine is to touch and smell different herbs, taste them, use them daily, and grow them if possible. Herbal medicine is a way of life. It is not a quick fix." Janice Boling -- herbalist, web designer, artist, and writer
"Ointment and Perfume Rejoice the Heart." Proverbs 27:9
I love to hear from my readers and my customers. The best way to reach me is by email at hometown30512@yahoo.com -- I answer emails several times daily.
Looking for one-of-a-kind gifts or fashion accessories? Visit Dancing Calico for wearable art, mobiles, sun catchers, beaded jewelry, little purses, medicine bags, and more.

* Note - the information on this website has not been evaluated by the Food and Drug Administration.
** Most of the articles in this online herbal encyclopedia were first published by the North Georgia News in a weekly column titled Every Green Herb (by Janice Boling).
© 2005-2020 website design and content by Janiceboling