Tips for using eucalyptus essential oil in herbal medicine, home remedies, and aromatherapy
Eucalyptus essential oil is the Oil of Respiration. The plant, which has a sharp, refreshing scent, thrives in the swampy areas of Australia. It is used in the treatment of colds and flu, bronchitis, sore throat, aching joints, muscle pain, sinus infections, asthma, infections, burns, arthritis, blisters, chilblains, cystitis, diarrhea, fevers, malaria, fungus infection, and herpes. Eucalyptus oil is antiseptic, antispasmodic, and expectorant. It purifies the air and helps the body to take in more oxygen (especially when used in the morning).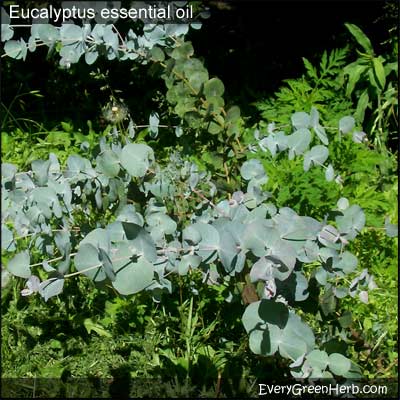 A baby eucalyptus tree on Payne Mountain Farms -- photo by Janice Boling
Eucalyptus essential oil is distilled from the leaves of the eucalyptus tree. This eucalyptus is one year old.
Using eucalyptus essential oil for insect bites and wounds
Eucalyptus essential oil can be applied to insect bites and wounds to speed healing and stop itching. Eucalyptus clears the head with its refreshing, stimulating, uplifting, decongestive, and cleansing properties.
Use eucalyptus essential oil in aromatherapy.
Eucalyptus essential oil aids concentration and clears the air after an argument. Use in a diffuser or put a few drops in simmering water. The aroma will do its job in no time.
Eucalyptus can help arthritis pain.
For best results when treating arthritis, blend eucalyptus oil with juniper essential oil and lemon essential oils. Rub gently on aching joints and muscles.
Use eucalyptus essential oil to repel insects, as an expectorant, and to treat sore throat.
If used as an insect repellant, blend with bergamot essential oil and lavender essential oils. To increase expectorant properties, blend with mint essential oil, thyme essential oil, lemon balm essential oil, anise essential oil , or fennel essential oil. Use in a compress to relieve fever and skin irritations. Use as a steam inhalant, chest rub, or in the bath for respiratory problems. When congested, rub a drop on each foot before bedtime. For sore throat, combine with tea tree essential oil and peppermint essential oil and rub on neck, around the ears, and on the chest area.
Eucalyptus essential oil can remove tar.
Eucalyptus essential oil can be used to remove tar from the skin and clothing.
Growing eucalyptus
Eucalyptus will grow in the North Georgia Mountains until the weather gets really cold.
We tried growing an eucalyptus tree on Payne Mountain Farms and it did great for three years. The 3rd winter, when temperatures dipped to five degrees, it died. It was a beautiful plant with round, silver leaves but even with a heavy mulch, it couldn't take the single digit weather.
* Avoid eucalyptus essential oil if you have high blood pressure or epilepsy. Use only for two weeks at a time.Do not take essential oils internally. Always dilute essential oils with good carrier oil before use (such as almond or olive oil). Always consult with a healthcare professional before using any herbal remedy especially if pregnant, nursing, or taking other medicines.



"The only way to really learn about herbal medicine is to touch and smell herbs, taste them, use them daily, and grow them if possible. Herbal medicine is a way of life. It is not a quick fix." ... Janice Boling, herbalist, web designer, writer, photographer
"Ointment and Perfume Rejoice the Heart." Proverbs 27:9
* Note - the information on this website has not been evaluated by the Food and Drug Administration.
© 2005-2018 website and all content by Janiceboling