Herbs and essential oils for a relaxing herbal bath
Relaxing herbal baths are a great sleep aid. For a sedative effect in the bath, use valerian, lemon balm, marjoram essential oil, lavender, hops, passion flower, sweet Melissa, sandalwood essential oil, or bergamot essential oil. Chamomile is also a good herb to help relax tired, achy muscles.
Herb and essential oils for a stimulating herbal bath
Rosemary, peppermint, and mandarin essential oil are good additions for a stimulating, uplifting bath. Invigorating baths improve the circulation and speed up digestion. While enjoying your bath, try using a herbal salt scrub for smoothing skin. If using essential oils, use only a few drops to avoid irritation and burning sensations. Essential oils are powerful substances.
Use powdered milk for a moisturizing herbal bath.
Powdered milk may be added to the herbal bath as a moisturizer. Add two tablespoons of olive oil and a few drops of rose or jasmine essential oil for best results. Any fine vegetable or nut oil may be used in an herbal bath. Almond oil, avocado oil, sunflower oil, safflower oil, walnut oil, and grapeseed oil are all excellent additions for moisturizing the skin.
For dry, flaky skin try scrubbing with an oatmeal sachet.
Just tie up a good portion of oatmeal in a clean handkerchief or thin cloth. Gentle rubbing will get rid of dead skin especially on the elbows, thighs, and hips. Exfoliation is a great way to get a younger looking complexion.
Repair damaged skin with an herbal sage bath.
To stimulate healthy skin regeneration, add a few drops of sage essential oil, parsley essential oil, sandalwood essential oil, or thyme essential oil -- along with any good-quality cold-pressed oil -- to a warm bath. These essential oils have antioxidant properties that help heal and repair the skin. See Herbal remedies for skin problems for more information about herbal remedies and the skin.
Herbal baths can be used to stimulate the lymphatic system.
Use of herbs in the bath (or in massage) helps improve lymphatic drainage and blood flow. Toxins and cellular debris are more quickly cleared from the body resulting in improved health and vitality. Eat a diet rich in antioxidants (fresh vegetables and fruits) for best results. Unprocessed foods, whole grains, fruits, and green vegetables should be eaten several times a day.
Herbal baths can relieve pain.
For arthritis or joint soreness, use fresh sage, lavender flowers, and bay leaves (or bay essential oil). Boil the medicinal herbs in boiling water for a minute and then simmer gently for fifteen minutes. Strain into bath and try to relax while taking slow, deep breaths. This technique is a great natural pain reliever. For added relief sip willow or oak bark tea immediately before or during bath.
Making herbal bath tea bags for gifts
If you want to make herbal bath salts for yourself, as gifts for friends, or to sell for a profit, join Katie Lane in her little purple potting shed where she shows how to make some herbal bath 'tea bags' -- the perfect homemade gift for family, friends and yourself.
Take a frankincense bath for headache relief.
For tension headache, panic attacks, or stress related problems try adding frankincense essential oil and chamomile essential oil to the bath. Combine with olive or peach kernel oil for added benefits.
Herbal bath oil recipe:
A basic bath or body oil can be made from any good cold pressed vegetable or nut oil. Pour into a jar or bottle, add a teaspoon of wheat germ oil, and add ten drops of lavender essential oil. Use in a warm bath every day during the winter months and use on skin to moisturize and protect.
Use herbal foot baths for insomnia.
Foot baths are used to treat everything from the flu to varicose veins. Submerge both feet in a deep enough container so that water goes up to the calves. A cold foot bath can relieve headache and insomnia. Alternating hot and cold water helps improve circulation. Try soaking in hot water for two minutes, then cold water for one minute. Repeat 10 times. To ward off colds and flu add strong mustard, freshly grated ginger, or horseradish to foot bath and soak twenty minutes.
Tips for making and using herbal salt scrubs
Herbal salt scrubs are easy to make at home.
Pour sea salt or Epsom salt into an 8 oz. wide-mouth jar (or bowl) leaving 2 inches head-space.
Pour quality vegetable or nut oil over salt until covered.
Add 5 to 10 drops of essential oil and stir with wooden spoon.
Use on wet skin or in the shower with a gentle circular motion. Go easy, you don't want to be left with abrasions.
Rinse and towel dry. Follow with a good herbal moisturizer.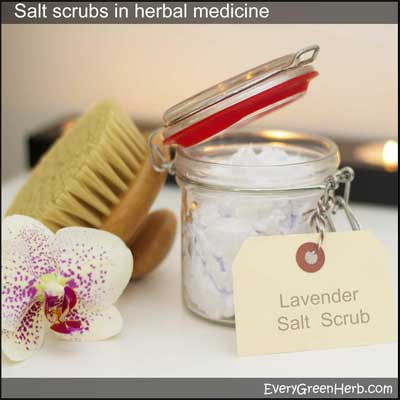 Photo of lavender salt scrub courtesy of Pexels.com
Herbal salt scrubs are easy to make with just a few ingredients such as Epsom salts, cold=pressed vegetable oil, and a few drops of your favorite essential oil. Salt scrubs can be used for soaking, as well as scrubbing. The salts and medicinal herbs will pull out toxins and greatly improve many skin problems.
Herbal salt scrub recipe:
Herbal salt scrubs are easy to make at home. They are inexpensive, good for the skin, remove dead cells, and stimulate circulation. Just pour sea salt into a wide mouth jar leaving some head space. Pour almond oil over the salt. Add several drops of favorite essential oil and stir with a wooden spoon. (Lavender and rosemary essential oils make a good addition for using in cold weather.) Epsom salts may be added for extra strength. In the shower, rub body with salt once a week. Use on the feet and elbows more often. Salt scrubs leave the skin soft and glowing -- but do not get too rough or irritation could occur.
To remove dead cells, to draw out toxins, and to give the skin a healthy glow, try an herbal salt scrub.
Resorts and day spas offer many luxuries including soothing massages, aromatherapy baths, and salt scrubs. Tired skin is rejuvenated and busy minds are calmed during the process. It takes a professional to do a good massage, but aromatherapy baths and herbal salt scrubs can be done at home at a fraction of the cost.
Herbal scrubs are easy to make with simple ingredients.
Purchase a pound of natural sea salt or Epsom salts, a good cold-pressed vegetable or nut oil, and any favorite essential oil. My favorite, lavender essential oil is always a good choice for any skin type and it is not as expensive as some of the other florals. Ylang-ylang and rose essential oils are excellent for the skin if you have them on hand or want to splurge.
Energizing salt scrub recipe:
Uses equal measures of sea salt and Epsom salts (one cup each), almond oil to cover, 6 drops of lavender oil, 6 drops of patchouli oil, and 3 drops of orange oil. Herbal scrubs stimulate circulation and remove dead skin cells. They leave the skin glowing and soft.
Ginger salt scrub for feet and elbows:
A mix of ordinary cooking ingredients can produce a wonderful scrub. Add a quarter cup of powdered ginger root, one-half cup of ordinary table salt, and the juice of two limes to one-half cup of warm olive oil. Use this gritty paste to exfoliate feet, elbows, and other rough places. The ginger root will leave skin tingling and smooth.
Dry skin? Try a no-salt herbal scrub recipe.
Here's a scrub recipe that is good for dry facial skin -- no salt (which can cause more drying). Grind 1 cup of oats into a fine powder. Put in a bowl and add one-fourth cup of ground poppy seeds or almonds. Add a cup of powdered green clay. Add one-fourth cup of dried herbs such as lavender, rose petals, calendula, comfrey, or chamomile, in any combination. Cover with oil. Mix well and store in a large wide-mouth jar with a tight fitting lid (keeps for up to six months in the refrigerator). Use a small amount of scrub on wet face with gentle circular motions. For a longer shelf life, add a few drops of tea tree oil.
Choose essential oils based on skin type
The choice of essential oils in a scrub should be based on skin type. Chamomile, lavender, carrot seed, and ylang-ylang essential oils are good for moisturizing fine wrinkles. Dry skin can benefit from geranium, frankincense, lavender, and sandalwood. Teenage acne calls for lemon grass, lavender, lemon thyme, tea tree, or sage. Sensitive skin will soak up chamomile or rose oil without causing any irritation.
Essential oils come in many unique scents.
Essential oils have a vast array of scents ranging from intensely floral to sharply antiseptic. Rose, ylang-ylang, jasmine, gardenia, and neroli essential oils have the intoxicating fragrance of exotic flowers. Rosemary, tea tree, eucalyptus, and sage essential oils have a clean, medicinal scent. If possible, experiment with individual oils before using blends. Each person's system is unique and reactions to different oils can be surprising.
Use common sense when using herbal remedies.
If you are attracted to an essential oil or individual herb then use more of it. If you are repulsed by something, discontinue use. Do not overuse essential oils. A few drops go a long way. Always dilute essential oils before applying to skin. Do not take them internally unless directed to do so by your healthcare professional.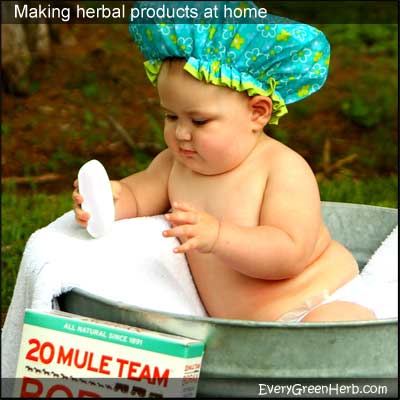 Photo of baby in wash tub courtesy of Pexels.com
Herbal bath and beauty products do not contain toxic chemicals and are easy to make at home.
Herbal facial recipe:
Herbal facials and cleansing masks are also easy to make at home. For beautiful skin, try a cleansing and moisturizing facial. Many things can be added to facials including vegetable oils, green clay, honey, essential oils, aloe vera, oats, eggs, raw vegetables, cider vinegar, and fruit pulp. To deep cleanse, use a green clay mask followed by an oil facial. Add geranium essential oil for normal skin, rose oil for dry skin, jojoba oil for oily skin, avocado oil for sensitive skin, and frankincense essential oil for mature skin. Good carrier oils include apricot kernel, almond, hazelnut, walnut, jojoba, olive, flaxseed, grape seed, and safflower. Always dilute essential oils before applying to skin.
A favorite facial oil for dry to normal skin
Combine a tablespoon of jojoba oil, two drops of geranium, a drop of frankincense, and a drop of myrrh essential oil. A good facial oil for normal to oily skin combines a tablespoon of jojoba oil, three drops of lavender, and three drops of ylang-ylang essential oil. Apply before bedtime with fingertips, using gentle circular motions.
Facial cleansing recipe:
To deep cleanse the face after normal washing, prepare a herbal steam facial. Add three drops of eucalyptus essential oil and three drops of lavender essential oil to a pot of boiling water that has been removed from heat source. Drape a towel over head and lean over pot. Do not get so close that face is burned. About twelve to eighteen inches is safe. Always use common sense when in the kitchen! Stay under the towel for five or six minutes with eyes closed. Pat dry.
Fresh and dried herbs may also be used in a steam facial. Try chamomile, rose, comfrey, lavender, sage, rosemary, or calendula. Steam the face for five to eight minutes. Rinse with cold water and follow with a good moisturizing herbal cream or oil. Herbal steam facials are best when done on a weekly basis.
* Always use common sense when preparing herbal beauty products for home use. Wash off immediately, and discontinue use if burning or irritation develops. Some herbs and essential oils should not be used before sun exposure.


"The best way to really learn about herbal medicine is to touch and smell different herbs, taste them, use them daily, and grow them if possible. Herbal medicine is a way of life. It is not a quick fix." Janice Boling -- herbalist, web designer, artist, and writer
"Ointment and Perfume Rejoice the Heart." Proverbs 27:9
I love to hear from my readers and my customers. The best way to reach me is by email at hometown30512@yahoo.com -- I answer emails several times daily.
I have a new website if you are looknig for arts & crafts. Visit Dancing Calico for handmade one-of-a-kind mobiles, sun catchers, beaded jewelry, little purses, and more.

* Note - the information on this website has not been evaluated by the Food and Drug Administration.
© 2005-2019 website design and content by Janiceboling