Garden sage or clary sage? Which should I use?
Common garden sage and clary sage are in the same plant family but are very different. Although both are salvias and both are used in herbal medicine, they are used for different purposes. There are many kinds of sage, but today my focus is on common sage and clary sage.
Common sage (Salvia officinalis) is known as common sage, garden sage, and culinary sage. Its leaves are used in cooking to flavor sausage, turkey stuffing, and cornbread dressing -- especially at Thanksgiving. Common sage leaves, which are drying and cooling, are used medicinally during menopause to relieve night sweats and other uncomfortable symptoms. Common sage may also be given to nursing mothers to help wean babies -- it helps decrease milk flow. (To increase milk, use fennel.)
Clary sage (Salvia sclarea) heightens awareness and helps focus the mind. It is usually used in essential oil form. Clary sage essential oil is distilled from the leaves and flowering tops of the salvia sclarea plant and should not be confused with common garden or Spanish sage oils. It is often used to heal eye problems, digestive problems, nervous disorders, menstrual irregularity, and kidney disease. Clary sage should not be used when consuming alcohol -- because it heightens the state of drunkenness.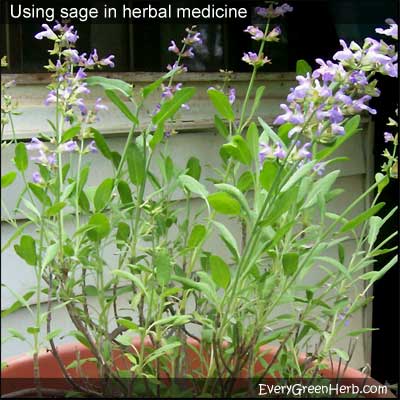 Common garden sage grows in a pot on Payne Mountain Farms - Photo by Janice Boling
Sage or salvia officinalis is used in the treatment of sore throat, mouth ulcers, night sweats, and other menopausal symptoms.
Garden sage is used to treat sore throat and other common health problems.
Sage is used in the treatment of sore throat, tonsillitis, mouth ulcers, gum disease, laryngitis, coughs, measles, headache, bruises, and menopausal problems. It is astringent and antiseptic. Sage also relaxes the peripheral blood vessels, reduces perspiration, and reduces salivation. It is a uterine stimulant, promotes bile flow, and stimulates the circulatory system. Common sage root is sometimes combined with the leaves for extra strength.
Honey and sage work good together.
Common sage is often extracted in to honey. It tastes great, but more importantly, it makes a wonderful healing remedy for sore throat due to colds and flu. Just chop sage, add to honey, put on tight lid, let sit in the warm sun for a day or two, then store in refrigerator until needed. Take a spoonful to relieve sore throat pain every hour or two. Add thyme at the same time you add the sage for extra strength.
Directions for making sage tonic:
As an home remedy, common sage is used in herbal teas, tonics, and gargles. Combine a handful of sage leaves, two cups of boiling water, two tablespoons of malt vinegar, and one teaspoon of honey. Steep the ingredients for thirty minutes and then strain. Take a teaspoon three or four times a day for sore throat or use as a gargle. This herbal tonic is also good for gum disease and mouth sores.
Use sage as an herbal hair rinse.
Common sage is also used on the scalp and hair where it conditions and restores shine. Sage helps stop dandruff and relieves dry, itchy scalp. Use as an herbal rinse after shampooing. Combine with rosemary for best results.
Sage increases memory function.
Common sage is associated with longevity and increased memory. It is often used as an herbal remedy for forgetfulness and confusion in the elderly. Use in tea with honey and lemon.
Use sage in compresses to relieve bruising.
Sage can be used in herbal compresses to relieve bruising. Apply to injured area several times a day. Add a little vinegar for best results. Sage may also be used on wounds to prevent bacterial infection.
Herbalist Rosemary Gladstar's Garden Wisdom
Rosemary discusses the healing properties and uses for common sage in the following video:
Common sage is also useful as an insect repellant.
Make a strong tea and put in a spray bottle. Apply liberally and often when in mosquito infested areas. For extra strength, add a few drops of eucalyptus essential oil. Sage essential oil can also be added to mixture.
Use sage to purify and heal.
The Latin name for sage, salvia, means "to heal". Native Americans use sage, which is native to North America, in smudge sticks to purify and cleanse their environments. Smudge sticks are bundles of dried herbs which are burned much like incense. One end of a smudge stick is lit and then blown out, so that it produces a good amount of smoke. For best results, add sprigs of lavender, sweet grass, or cedar.
Smudging your environment with sage
You can use most types of sage for purification. See following video to learn about cleansing your environment of negative energies with white sage (salvia apiana):
Sage is a hardy perennial.
Common sage is a hardy perennial that grows up to three feet tall. The plant has woody stems, grayish colored leaves, and small purple flowers. There are many varieties to choose from including dwarf, golden, pineapple, and variegated. Sage plants need full sun and grow best in poor, well drained soil. Propagate by seeds, stem cuttings, or layering. Harvest in the summer and dry for winter use.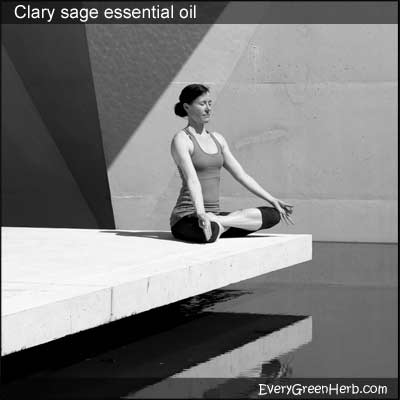 Woman meditates beside pool -- photo courtesy of Pexels.com
Clary sage is an aid to meditation. It is relaxing and uplifts the spirit.
Use clary sage in aromatherapy.
Clary sage essential oil is useful in aromatherapy and as an aid to meditation. It brings about a feeling of well being and satisfaction. Clary sage is a feel-good essential oil that is well suited for treating PMS and menopausal symptoms. Use clary sage essential oil for scarce periods, nervous fatigue, varicose veins, painful periods, anxiety, stress, inflammation, labor pains, mature skin, and postnatal depression.
Intoxicating properties
Clary sage is known to have intoxicating properties and is sometimes used in the production of wine and vermouth. It is also a key ingredient in Eau de Cologne. Clary sage essential oil is used in many herbal products especially facial cleansers.
Clary sage essential oil brings relaxation.
Clary sage relaxes the nerves and soothes anxiety. It is astringent and produces a cooling effect when diluted and used on the skin. Clary sage essential oil reduces fevers, relieves bloating, stimulates digestion, lowers blood pressure, uplifts the spirit, and is excellent for the female system.
Clary sage is balancing, euphoric, sedative, and an aphrodisiac.
Used before bed time, clary sage may bring about vivid dreams and encourages recollection upon awakening. Clary sage is often used in the treatment of backaches, muscle stiffness, cramps, sinus problems, sore throat, respiratory infections, and as a uterine tonic.
Use clary sage in eye compresses.
To soothe the eyes, soak a clean cotton cloth in a mixture of warm water and a few drops of clary sage essential oil. Relax and place the compress over both eyes for ten minutes. Do not get oil in your eyes.
Clary sage is good for hair and skin.
Clary sage has regenerative properties and may encourage hair growth. Clary sage helps limit sebum production and is often added to herbal treatments for dandruff and oily skin. Clary sage should not be used during pregnancy, but may be helpful once labor is well advanced.
Clary sage should not be confused with common garden sage.
Other types of sage include common sage and purple sage. Oils made from these varieties of sage are sometimes considered toxic and should be used with extreme care.
Another type of sage is known as Spanish sage. Spanish sage (salvia lavendulaefolia) essential oil is considered a cure-all in Spain. It is used to treat everything from headache to digestive complaints. Spanish sage essential oil is good for fighting skin infections, stress, gum infections, hair loss, and fluid retention. It is cleansing and detoxifying. Spanish sage essential oil is extracted from a shrubby evergreen that loves hot weather.
Use sage essential oil to purify the air.
All three sage essential oils are very powerful substances and can cleanse and purify the air in sick rooms. Visit Wikipedia to view photos of the clary sage plant.
* Common sage, also known as culinary sage or garden sage, may increase the sedative effect of prescription and over-the-counter drugs when used in therapeutic amounts. Avoid large doses in pregnancy as it may cause miscarriage. Common sage has been known to trigger epileptic seizures. Do not use common sage in therapeutic amounts if you are hypoglycemic or undergoing anticonvulsant therapy. Always dilute all sage essential oils before using in the mouth or on the body! Use sage oils in moderation and no more than for two weeks at a time. Do not use sage oil when pregnant, on babies, or in cases of hypertension or epilepsy. Keep all essential oils away from the eyes. Do not take essential oils internally. Always dilute essential oils with good carrier oil and test on small area of skin before use. Some sage (salvia divinorum), also known as diviner's sage or purple sage, is hallucinogenic and should only be used with extreme caution in controlled environments such as religious ceremonies. Always consult with a healthcare professional before using any herbal remedy especially if pregnant, nursing, or taking other medicines.


"The best way to really learn about herbal medicine is to smell different herbs, taste them, use them daily, and grow them if at all possible. Herbal medicine is a way of life. It is not a quick fix so give your herbs time to work." Janice Boling -- herbalist, web designer, artist, and writer
"Ointment and perfume rejoice the heart: so doth the sweetness of a man's friend by hearty counsel." Proverbs 27:9
I love to hear from my readers and my customers. The best way to reach me is by email at hometown30512@yahoo.com -- I answer emails several times daily.

* Note - the information on this website has not been evaluated by the Food and Drug Administration.
** Most of the articles in this online herbal encyclopedia were first published by the North Georgia News in a weekly column titled Every Green Herb (by Janice Boling).
© 2005-2020 website design and content by Janiceboling